Can Comfy Chairs and Laser Projectors Bring People Back to the Movies?
Hollywood is counting on event films and new technology to wow ticket buyers
By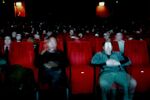 Movie attendance in the U.S. has been sliding for a decade. So Hollywood is turning to some old friends to lure fans back to cinemas in 2015: Luke Skywalker, Tony Stark, and James Bond. Next year's schedule is heavy with new installments of the most successful hero series, including Star Wars and Avengers films from Walt Disney and The Hunger Games finale from Lions Gate Entertainment. "What makes 2015 different is that the summer slate is mostly known brands and franchises and sequels," says Craig Dehmel, executive vice president for international distribution at Twentieth Century Fox, which will release Taken 3 (so many kidnappings) and a reboot of The Fantastic Four next year.