National Democrats Yanking Louisiana Ad Buy as Landrieu Faces Runoff
"We are going to make determinations on how best to invest in the race," a committee spokesman says.
Annie Linskey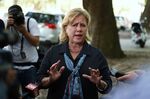 The Democratic Senatorial Campaign Committee is pulling its ad buy in Louisiana, leaving Democratic incumbent Mary Landrieu to fend for herself, at least in the early days of her runoff against Republican Bill Cassidy taking place Dec. 6.
They were the top two vote-getters in Tuesday's midterm elections, when Republicans won enough Senate seats to take control of the chamber.
The $1.6 million buy in Louisiana was scheduled to start on Nov. 10, according to a Republican source. It appeared that the Democrats were trying to cancel the entire buy, the source said.
Justin Barasky, a spokesman for the DSCC, said in an email that Landrieu is a "proven run-off winner" and the committee supports her "100 percent."
"We are going to make determinations on how best to invest in the race," he said. "We made the initial reservation when there were concerns that the rates would skyrocket but they have stabilized, giving us more flexibility to make week-to-week decisions."
Another potential complication to Landrieu's reelection: President Barack Obama on Wednesday said he remains committed to taking action on immigration reform by year's end, a vow Republicans have used to hammer him and senators in his party.