Draghi Tests Limits of Power as ECB Enters 2014 Endgame
Stefan Riecher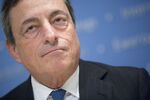 As Mario Draghi prepares the ground for further European Central Bank action, he's testing the limits of his power.
Two years after he corralled policy makers to back his plan to save the euro, the ECB president is struggling to galvanize similar support for more stimulus to rescue the region's economy. At his monthly press conference today in Frankfurt, he'll probably insist he can overcome divisions on the Governing Council as officials prepare their final forecasts in 2014.
While Draghi is unlikely to announce major new measures yet, he could use the platform to hint at the ECB's willingness to expand its asset-buying program as soon as December, when he'll have the revised predictions as a guide. Before then, the ECB will open a new front by purchasing asset-backed securities, though Draghi's ability to push his colleagues as far as full-blown quantitative easing remains unproven.
"The time for QE is clearly approaching, as it would be at such a time that positions would harden," said Lyn Graham-Taylor, a fixed-income strategist at Rabobank International in London. "Clearly some persuasion still needs to take place on the Governing Council until a sufficient number of members are brought onside."
Interest Rates
Officials will leave the main refinancing rate at a record low of 0.05 percent and the deposit rate at minus 0.2 percent, according to all economists in a Bloomberg News survey. The ECB will announce its decision at 1:45 p.m. in Frankfurt and Draghi will start his press conference 45 minutes later.
The Bank of England is also predicted to leave its key interest rate unchanged, at a record-low 0.5 percent, at noon today in London.
One argument for more stimulus this year is that inflation remains stuck well below the central bank's goal of just under 2 percent, even after a series of measures since June. The ECB has cut interest rates twice, offered cheap long-term loans to banks and embarked on covered-bond purchases. It also completed a yearlong review of lenders' balance sheets that officials say will strengthen the financial system.
Draghi has repeatedly said policy makers are unanimous in their willingness to add stimulus if needed to prevent a deflationary spiral of falling prices and households postponing spending. Further options include purchases of corporate bonds or Japan-style buying of government debt.
Management Style
QE could be difficult to sell in either of the final two monetary policy meetings of this year. Bundesbank President Jens Weidmann opposed the latest stimulus and his compatriots in Germany, the region's largest economy, have argued that buying sovereign bonds would be monetary financing of governments.
Austria's Ewald Nowotny joined Weidmann in opposing the plan to buy ABS, and Sabine Lautenschlaeger, the Executive Board's newest member, said "the balance between cost and benefit is at the moment negative" for some non-standard tools. Reuters reported this week that as many as 10 policy makers are against sovereign QE, and that discomfort is mounting over Draghi's management style.
The resistance may persuade him to focus on existing programs for now by insisting they'll drive a sizable expansion of the ECB's balance sheet. Officials will kick off the ABS program this month after they picked four financial companies to help execute the purchases.
Balance Sheet
Draghi has indicated that the ABS and covered-bond plans together with targeted loans linked to banks' real-economy lending will boost the ECB's assets by as much as 1 trillion euros ($1.25 trillion).
"The latest data should allow the ECB to take a breather at this week's meeting," said Carsten Brzeski, chief economist at ING-DiBa in Frankfurt. "However, pressure on the ECB to do more is likely to flare up again, bringing the issue of how to 'super-size' the latest measures back to the forefront soon."
Inflation in the currency bloc was 0.4 percent in October, barely improving on the five-year low of 0.3 percent in the previous month. Unemployment of 11.5 percent in September was still near a record.
The ECB currently predicts inflation of 0.6 percent this year and 1.1 percent in 2015, with economic growth of 0.9 percent and 1.6 percent, respectively. The European Commission lowered its own outlook for the region this week.
"The ECB will have to slash its staff projections," said Holger Schmieding, chief economist at Berenberg Bank in London. "That will be a strong argument for loosening policy further."
Draghi's immediate action, if any, may be limited to minor tweaks. He could reduce the cost of the targeted-loan program, dubbed TLTRO, to make it more attractive, said Greg Fuzesi, an economist at JPMorgan Chase & Co. in London. The next operation will take place a week after the December policy meeting.
"The ECB will move to sovereign QE only as a last resort, if the macro data disappoint further and if existing measures are shown to be insufficient," Fuzesi said.
Before it's here, it's on the Bloomberg Terminal.
LEARN MORE