Nouriel Roubini: Indian Tortoise Will Soon Pass Chinese Hare
by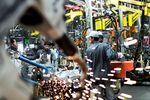 Nouriel Roubini is an India optimist. The country may have spent years lagging behind fast-growing Asian neighbors, such as China, but the NYU professor and chairman of Roubini Global Economics sees a role switch ahead, he told Bloomberg Television today.
Economic growth in China, weighed down by an aging population and an obsolete investment-driven economic model, is going to fall to 6.5 percent next year and will drop below 6 percent in 2016, "while in India, with the right reforms, it could go to 7 percent," he said. "So for the first time ever the tortoise becomes the hare and the hare becomes the tortoise."
China's leaders know the problems they face, according to Roubini, who is visiting Hong Kong for a Barclays-sponsored conference, but so far they have been reluctant to follow through on promises to address them. "The Chinese understand their growth model is unsustainable—too much fixed investment, not enough consumption," Roubini said.
Ambitious reforms announced a year ago at the third plenum meeting of the Chinese Communist Party, however, "are not being implemented, in part because President Xi is trying to consolidate his own power. Therefore every time growth slows down below 7 percent, they do another round of credit-fueled fixed investment. That means more bad assets for the banks and shadow banks, more bad investments in real estate, infrastructure, and excess manufacturing capacity, and more bad debts in the public sector."
Roubini has doubts, too, about the moves Japanese policymakers are making. Last week's surprise announcement of more stimulus from the Bank of Japan, coupled with the news the Government Pension Investment Fund (GPIF) will be investing $187 billion into equities, are clear signs Prime Minister Shinzo Abe will say yes to another increase in the consumption tax, he argued.
"In my view, they could have postponed it," Roubini said. Abe first raised the tax from 5 percent to the current 8 percent in April and is likely to raise it again to 10 percent. That will be difficult for Japanese consumers to digest and could endanger the chances of Abenomics succeeding. "The whole strategy of the administration is to boost corporate profits and the stock market—through corporate tax reform, through the weaker yen, through the actions of the GPIF—so as to lead to more hiring and more capital spending," Roubini said. But for that virtuous cycle to kick in, "you need consumption." Another increase in the consumption tax "works against that."
Before it's here, it's on the Bloomberg Terminal.
LEARN MORE