Allergan Tussle Plumps Up Botox Maker's Price: Real M&A
Tara Lachapelle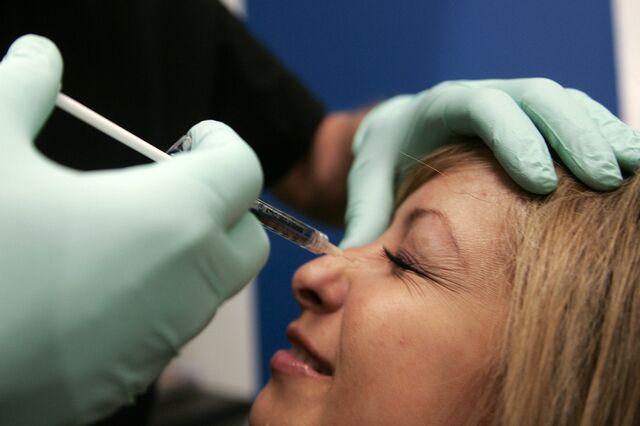 As the contest to win control of Allergan Inc. heats up, so has the valuation.
The Botox maker's pricetag has doubled in the past year as Valeant Pharmaceuticals International Inc. persists with its hostile bid and Actavis Plc sidles up. The $59 billion target's profit multiple is already 60 percent higher than the median of past pharmaceutical takeovers that large, according to data compiled by Bloomberg.
Most megamergers generate losses for shareholders, so Allergan's winning bidder will have to work to justify the price. Valeant, a serial acquirer, is known for cutting costs at the businesses it purchases. Piper Jaffray Cos.'s David Amsellem says Actavis also can cut costs at Allergan and leverage its department that markets medicines to primary-care doctors. Actavis would be gaining a business that increases profit about 20 percent a year or more, the New York-based analyst said.
"There's always a risk of overpaying, but I think you have to consider the extent of synergies and tax efficiencies," Amsellem said in a phone interview. And given Allergan's earnings growth, "I wouldn't say it's a particularly expensive stock."
Three-quarters of analysts covering Allergan still recommend investors purchase shares at this level, according to data compiled by Bloomberg.
'Inadequate' Offer
Allergan has an offer on the table from Valeant that it says is "grossly inadequate." Allergan shares have risen for eight straight days to a record $197.40 apiece yesterday, well above Valeant's bid. Valeant said last week that it's prepared to raise the offer to at least $200 a share.
Today, Allergan's shares dropped 0.8 percent to $195.82 at 9:49 a.m. New York time.
As Allergan seeks to fend off the hostile suitor, the company said in a filing yesterday that it's in talks with another party that may lead to merger negotiations, without providing further information. That third party is Actavis, people with knowledge of the matter said yesterday.
The disclosure prompted Bill Ackman, the hedge-fund investor urging Allergan to accept Valeant's hostile bid, to call on the company to run an auction.
"Now that the company is seriously considering a sale, it is incumbent upon the board to maximize shareholder value by running a sale process that will generate the highest value," Ackman said in a letter to Allergan's board today. "We believe that Valeant can pay substantially more for Allergan" than Actavis can, he said.
Even Actavis shareholders cheered on the possible deal, with its stock rising 1 percent yesterday.
Acquirer Stock
If history's any guide, those shareholders are more likely to lose money after a merger this big. About two-thirds of company takeovers that exceeded $20 billion between 1996 and 2013 destroyed value, data compiled by Bloomberg show. The acquirers also lagged behind the MSCI World Index in the three years after completing the deals, according to the data.
Pfizer Inc.'s $64 billion acquisition of Pharmacia Corp. in 2003 is one such example. Pfizer posted the worst underperformance among the buyers analyzed.
Different Today
There are differences between those past deals and the current wave of acquisitions in the pharmaceutical industry. For one, many of the acquirers today are moving or have moved their legal addresses overseas where the tax rate is lower, giving them more room to pay up for purchases. Both Valeant and Actavis have undergone this type of inversion deal. Valeant is based in Laval, Quebec, while Actavis is domiciled in Dublin.
Their interest in Allergan is putting the company into the rankings of expensive deals. Allergan was valued yesterday at 25 times trailing 12-month earnings before interest, taxes, depreciation and amortization, double its valuation a year ago. Attempted or completed takeovers larger than $20 billion in this industry have a median multiple of just 15.6, data compiled by Bloomberg show.
It's familiar territory for Actavis, which struck the priciest pharmaceutical megadeal ever, paying almost 300 times Ebitda for Forest Laboratories Inc. earlier this year. The $25 billion takeover transformed generic-drug maker Actavis into a developer of brand-name medicines. Actavis shares have risen 12 percent since the deal closed.
Valeant Acquisition Strategy
Valeant has built its business by acquiring companies and cutting research and development spending and other costs. The $43 billion drugmaker estimates about $2.7 billion of savings from an Allergan purchase. We don't yet know Actavis's synergies estimate.
"You don't want to get into any kind of bidding war or situation where you end up overpaying," David Steinberg, an analyst at Jefferies LLC, said in a phone interview. "The question is, is that the zone we're getting into?"
Whether it is depends on the assumptions the acquirers are factoring into their offers, such as revenue synergies, cost reductions and tax efficiencies, he said.
"One of the worst things that can happen to a company is doing a bad deal," Steinberg said. "That said, Allergan is one of the most unique and high-quality assets there are in health care. Companies like this don't come around often."
Before it's here, it's on the Bloomberg Terminal.
LEARN MORE