Traders Seek Answers After Draghi Fueled October Swings
Sofia Horta e Costa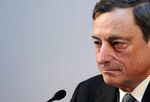 With volatility easing in Europe, another session with Mario Draghi probably wasn't the first thing stock investors wanted on their calendars this week.
Equity swings exploded and lenders slumped after last month's European Central Bank conference as Draghi failed to convince investors that he had a strategy to avoid deflation. They won't get much more clarity tomorrow, according to Goldman Sachs Group Inc., which predicted in a note last week that Draghi will appeal for time to let his policies work.
Two years of relative calm for European shares was shattered in October when Draghi stopped short of setting a precise target after saying the ECB would expand its balance sheet, leaving markets concerned he will face obstacles in plans to spur growth. Volatility spread to the rest of the world as the MSCI All-Country World Index extended a retreat that began in July to as much as 9.6 percent.
"He played a dangerous game in coming forward without a detailed program," said Francois Savary, chief investment officer of Reyl & Cie. in Geneva. "There's a lot of focus on the next meeting because people have started doubting whether there is enough liquidity to actually support the system in Europe. The market wants a reaction."
Volatility Gauge
The VStoxx Index, a measure tracking expectations for price swings in the Euro Stoxx 50 Index, jumped 11 percent when Draghi spoke on Oct. 2. That was the largest gain during any ECB policy meeting since April 2012, according to data compiled by Bloomberg. The region's banks slumped 4.1 percent that day, dragging the broader gauge to its worst rout in seven months.
While equities tracked by the Euro Stoxx 50 slumped 12 percent from Sept. 19 to Oct. 16, they've since recouped more than half the loss. The ECB began buying covered bonds on Oct. 20, settling 4.8 billion euros ($6 billion) of purchases including Italian, French and Spanish debt in the first two weeks.
The VStoxx soared 77 percent in the first weeks of October to reach its highest level in more than two years on Oct. 16. The measure has dropped about 30 percent since.
With the central bank counting on its targeted loans to revive lending, banks will be a hot topic after stress-test results and the ECB's balance-sheet review showed that eight lenders still need to plug capital shortfalls.
Economists predict the central bank will keep its three interest rates unchanged. Draghi may drop hints of further stimulus, including the purchase of government bonds, but he will tell investors to be patient in assessing the impact of the asset buying, Goldman said in an Oct. 28 note.
Less Important
To Julius Baer Group Ltd.'s Christian Gattiker, tomorrow's meeting won't be as big a deal as the last one.
"The ECB has had a problem with being credible," said Gattiker, head of research at Julius Baer in Zurich. "But now, with the stress tests out of the way and credit conditions easing, there will be less pressure on Draghi and this meeting won't be as important as the one in October."
The ECB said last week that credit standards eased for a second quarter in the three months through September and demand for loans rose. Credit growth is a different story. Lending to companies and households has contracted every month since March 2012, according to data from the central bank.
Even after a two-week rebound, euro-area stocks lost 3.5 percent in October and the VStoxx advanced 14 percent. Volatility for euro-area stocks is still 31 percent above its 12-month average.
"Markets are still nervous," Alessandro Bee, a strategist at Bank J Safra Sarasin AG, said by phone from Zurich. "They want to know what the plan is if stimulus measures don't work. Although Draghi told us not to expect anything before he assesses the impact of current policies, the economy isn't getting much better. Pressure is building."
Before it's here, it's on the Bloomberg Terminal.
LEARN MORE