The Last Hope for Colorado Democrats Is a Big Turnout
And on the front lines, a soldier is hopeful.
By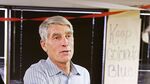 As she has for the last nine days, Jessica Parker awoke before 4 a.m. and drove two hours south to Denver. "I'm on work release," she said. "Sounds like prison, doesn't it?" Parker isn't a felon, but a flight attendant for Southwest Airlines whose union bargained for "work release" to allow members to do campaign work. When Parker arrived in a modest North Denver neighborhood at 7 a.m. this morning, the sun was just rising and frost covered the grass. She had a tablet with a map of 31 households belonging to union members or their families. This was her last push.
If Democrats have a path to hold the Senate, it probably runs through Colorado. Most recent polls aren't promising. The RealClearPolitics polling average has Republican Cory Gardner beating incumbent Sen. Mark Udall by 2.5 points. But Colorado politics are tricky, and the polls have proved to be wrong in the past. In 2010, nearly every one showed Republican Ken Buck beating Democratic Sen. Michael Bennet -- but Bennet eked out a win at 5 a.m. the morning after the election. Democrats credit a late surge of voters, driven by their sophisticated get-out-the-vote operation.
To win, Udall will need to rely on canvassers like Parker to drive up turnout above the 1.8 million who voted in 2010, especially among unaffiliated voters. That's because Gardner will probably win a larger percentage of Republicans than Buck, a flawed candidate, did. Udall will get fewer Republicans than Bennet did, says a Democratic strategist, but unaffiliateds will be a bigger piece of the pie. The latest numbers, leaked by a generous source, don't look good for Democrats. As of 5 p.m. Eastern Time, 1.725 million ballots are in, 39.3 percent from Republicans, 32 percent from Democrats, and 27.56 percent unaffiliated. But there's still a little time.
Parker's job is to remind, cajole, or politely implore union households to vote, regardless of partisan affiliation. "Did you support labor-friendly candidates like Mark Udall and John Hickenlooper?" she asks a grizzled-looking Hispanic man, who says he's already returned his ballot. He'd rather not say. But the odds that union households favor Democrats are strong.
When Parker began canvassing nine days ago, her tablet was full of houses. Now, they're fewer and farther between, a sign that those union members have voted. Campaign literature -- mostly Democratic -- litters the doorway of houses throughout the neighborhood, evidence of earlier canvassers. Some of Parker's houses have been nine or ten times.
As the sun warms and the day becomes more pleasant, Parker hustles to get through her 31 households and back to AFL-CIO headquarters, where she hopes to squeeze in one more list before the polls close at 7 p.m. She's heard that Gardner is ahead and knows that robust turnout may be Udall's last chance. "Since Democrats don't usually vote early," she says. "I'm really, really hoping that we can pull this one out."