The Last Hope for Colorado Democrats Is a Big Turnout
And on the front lines, a soldier is hopeful.
By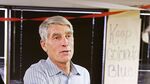 As she has for the last nine days, Jessica Parker awoke before 4 a.m. and drove two hours south to Denver. "I'm on work release," she said. "Sounds like prison, doesn't it?" Parker isn't a felon, but a flight attendant for Southwest Airlines whose union bargained for "work release" to allow members to do campaign work. When Parker arrived in a modest North Denver neighborhood at 7 a.m. this morning, the sun was just rising and frost covered the grass. She had a tablet with a map of 31 households belonging to union members or their families. This was her last push.