Sell, Buy, Sell Again in 27 Days Amid Record Topix Swings
Anna Kitanaka, Adam Haigh and Toshiro Hasegawa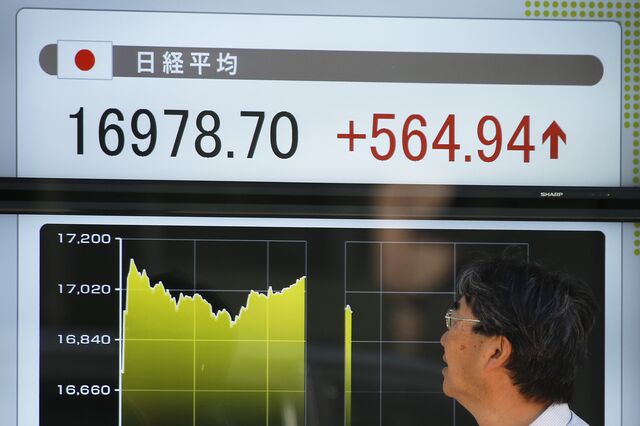 Japanese shares are swinging by the most on record after a double boost by the nation's central bank and pension fund sent the Topix index to a six-year high two weeks after it entered a correction.
The Topix rallied 7 percent in two days through yesterday, the steepest gain since March 2011, extending an advance since Oct. 17 to 16 percent following a three-week decline that erased 12 percent. Volatility is playing havoc with a momentum indicator known as the Relative Strength Index, causing it to go from bearish to bullish to bearish within 27 trading days, the fastest reversals on record, data compiled by Bloomberg show. The Topix closed 0.2 percent higher today at 1,371.76.
"Japan is a very unnerving market because it behaves like an uneducated brat," said Mikio Kumada, Hong Kong-based global strategist at LGT Capital Partners, which manages about $50 billion. Kumada said he was overweight Japan before the BOJ and GPIF announcements. "You don't know what it's going to do in the next moment and in many ways it's unpredictable."
For now, equities are surging after the Bank of Japan unexpectedly added to stimulus and the Government Pension Investment Fund said it would buy more local stocks. LGT Capital's Kumada said he's ignoring the swings and sticking with bullish positions.
BOJ Shock
The country's central bank surprised the market on Oct. 31 by raising its target for annual purchases of Japanese government bonds to 80 trillion yen ($705 billion), while saying it would triple buying of exchange-traded funds.
On the same day, the $1.1 trillion GPIF announced plans to more than double its target allocation to Japanese stocks. The yen tumbled to an almost seven-year low against the dollar and the Topix surged, closing yesterday at its highest since 2008.
The Topix's 14-day RSI stood at 70 yesterday, according to data compiled by Bloomberg, the level some traders say indicates that shares have risen too fast. On Oct. 17, after the Topix's three-week slump, it was at 22.9, below the 30 mark that signals stocks are set to rebound. On Sept. 25, when the gauge reached a six-year high, the RSI stood at 73.3, again suggesting a drop.
The Nikkei Stock Average Volatility Index increased 21 percent yesterday to its highest since February after rising 20 percent on Oct. 31. Short-selling also reached record highs last month. Volume on the Topix was more than twice the 30-day average yesterday.
Momentum Trading
"The main trades are coming from the short-term investors," said Nomura Holdings Inc. senior strategist Hisao Matsuura. "Volume is high because the short-term investors are trading on momentum."
Hedge funds bought last week and are taking profits now, or covering short positions, according to Nomura and Jefferies Japan Ltd.
Macquarie Securities Ltd. this week boosted its 12-month projection for the Topix almost 10 percent to 1,480. Credit Suisse Group AG raised its Nikkei 225 year-end target to 17,500 from 17,000 in a note dated Nov. 3.
For PineBridge Investments Japan Co., which said at the start of October that the Topix would rise to 1,420 by year-end, or 3.8 percent higher than yesterday's close of 1,368.65, the key is ignoring short-term fluctuations.
"It's important not to fall into the panic trap when volatility is high," said Tatsushi Maeno, head of Japanese equities at PineBridge in Tokyo, which oversees about $2.9 billion. "I try not to be seduced by volatility and to stay committed to my medium-term scenario."
Before it's here, it's on the Bloomberg Terminal.
LEARN MORE