Rand Paul: 'Tonight Is a Repudiation'
According to the Kentucky Senator, the president was on the ballot.
By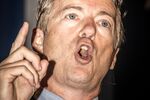 Shortly after Senator Mitch McConnell was declared the winner in his race against Democratic challenger Alison Lundergan Grimes, Senator Rand Paul took to the stage at McConnell's victory party and loudly proclaimed what Republicans nationwide hoped would prove to be Wednesday's main headline. 
"Make no mistake, tonight is a repudiation of Barack Obama's policies and leadership," a hoarse Paul told cheering Republicans.