Obama to Seek New Authorization for Islamic State Fight
David Lerman, Roxana Tiron and Phil Mattingly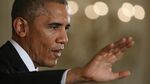 President Barack Obama's decision to seek authorization for the battle against Islamic State extremists will test the ability of a divided Congress to agree on a war strategy for Iraq and Syria.
After insisting for months that he has all the authority he needs to launch the airstrikes already under way against the radical Sunni group, Obama reversed course and called for a new authorization for the use of military force a day after his party lost control of the Senate.
"The world needs to know we are united behind this effort and the men and women of our military deserve our clear and unified support," Obama said yesterday at a White House news conference.
While some lawmakers of both parties have advocated an authorization vote since the airstrikes began in August, passage of a resolution will expose political fault lines over how and whether the U.S. should conduct another war in the Middle East.
"It's going to be very messy," said James Jeffrey, Obama's former ambassador to Iraq who's now an analyst at the Washington Institute for Near East Policy. "They're going to try to dictate specific tactics and strategies."
Jeffrey said the decision to seek an authorization now -- after saying for months it's not needed -- only weakens the hand of a president whose credibility on foreign policy matters has been undermined.
Austin's Assessment
"The whole world thinks he wants to wimp out of war," Jeffrey said. "It's another indication that he doesn't want to own this," he said of the battle against Islamic State. "If you don't want to own this, you've lost."
The president has invited congressional leaders from both parties to the White House tomorrow, and one of the topics will be the situation in Iraq and Syria. The president said Army General Lloyd Austin, the head of U.S. Central Command that's leading the fight against Islamic State, will discuss how the fight against Islamic State is going.
Previewing what he may tell lawmakers, Austin said today that Islamic State "is about as good as I've ever seen" as a fighting force. Austin's 39 years in the Army included two stints in Iraq.
"They've learned the lessons of Iraq and other places," Austin said today at a forum held by the Atlantic Council, a policy research group in Washington. "They really understand the value of trying to dominate the media space."
Backing Down
While defeating the extremists won't take decades, "it will take years," said Austin, who estimated the number of core Islamic State fighters at 9,000 to 17,000 across Iraq and Syria. Other U.S. intelligence estimates have put the size of the entire group as high as about 30,000.
Obama first sought an authorization from Congress to launch strikes against Syrian government targets more than a year ago, after evidence surfaced that the regime of President Bashar al-Assad had used chemical weapons. He backed down weeks later, after Russia offered a plan to get Syria to surrender its chemical weapons and many in Congress expressed opposition to airstrikes.
'No Appetite'
"There was no appetite on the Hill to become co-owners of the strategy toward Syria in 2013," said P.J. Crowley, a former State Department spokesman in the Obama administration who's now a fellow at the Institute for Public Diplomacy and Global Communication at George Washington University in Washington.
"That may or may not change in 2014," Crowley said. The administration has said the current attacks aren't targeting the Syrian regime.
Several lawmakers said yesterday that they welcomed Obama's decision to seek authorization.
The Senate Foreign Relations Committee will hold hearings on the U.S. role in Iraq and Syria beginning next week, Senator Robert Menendez, the panel's chairman, said in a statement.
The New Jersey Democrat has said a congressional authorization should be "appropriate in scope and duration to meet the threat and sustain the fight" without having an "indefinite duration."
The authorization may open splits within Obama's Democratic Party. Many Democrats, led by House Minority Leader Nancy Pelosi of California, oppose any change that could open the way for putting U.S. ground troops into the fight -- a view Obama has said he shares. A number of Democrats voted against arming and training Syrian rebels that Obama hopes will fight Islamic State forces on the ground.
Republican Stance
Passage of a resolution also will be difficult because of a divide between the political parties, with some Republicans pushing for a more robust U.S. response that could include ground forces and the creation of a no-fly zone for the Assad regime.
While Obama said the lame-duck session of Congress should take up an authorization resolution this year, he acknowledged that the debate may take time. "It may carry over into the next Congress," he said.
Obama "needs an authorization from Congress," said Jane Harman, a former Democratic member of the House intelligence committee who is now president of the Wilson Center, a Washington policy research institute. "It needs more buy-in from the American people in case this gets ugly."
'Deal to Be Had'
While lawmakers may differ on the details of a resolution, "there is a deal to be had here," she said.
Even if an authorization measure can win congressional approval, the decision to seek one months after airstrikes began leaves open to question the legality of military actions taken so far, said Ryan Goodman, a professor at New York University's School of Law and co-editor-in-chief of the "Just Security" legal blog.
"The president's finally deciding to go to Congress is an implicit admission that the current military operations lack the firm and clear legal basis that's required for taking our country to war," Goodman said in an e-mailed statement. "It always took a leap of legal imagination to say the 2001 and 2002 congressional authorizations applied to the Islamic State."
Congress authorized military force against the perpetrators of the Sept. 11 attacks in 2001, and against the Iraqi government of Saddam Hussein in 2002. Islamic State has been disavowed by the al-Qaeda organization.
Obama has approved airstrikes against the extremists who have seized swaths of Iraq and Syria, and he's deployed U.S. military teams to assess and advise the Iraqi military.
The administration has said it's carrying out the offensive under the use-of-force authorization Congress approved after the Sept. 11, 2001, terrorist attacks, as well as under his constitutional powers as commander in chief.
In September, legislators passed Obama's plan to arm and train Syrian rebels the administration approves as moderates. That will expire in December, during the last session of the current Congress.