Obama: 'Congress Will Pass Some Bills I Cannot Sign'
The Republican takeover of the Senate clarifies the calculations for President Obama and Democrats as they consider what they should try to get done.
By and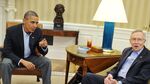 In a news conference a day after "the Republicans had a good night" by gaining seats in the U.S. House and ousting the Democratic majority in the Senate, President Barack Obama worked through a to-do list of policy decisions postponed until after Election Day and handicapped a few of them, given the new political dynamics in Washington.
"I'm committed to making sure that I measure ideas not by whether they are from Democrats or Republicans, but whether they work for the American people," Obama said Wednesday, adding "that's not to say that we won't disagree over some issues that we're passionate about. We will. Congress will pass some bills I cannot sign. I'm pretty sure I'll take some actions that some in Congress will not like. That's natural. That's how our democracy works."
One spot where the president said he would not budge is the Affordable Care Act. While the president signaled that he was open to some "responsible changes," when it comes to a full repeal, "I won't sign. Efforts that would take away health care from the 10 million people who now have it and the millions more who are eligible to get it, we're not going to support."
Here's a look at the list of things left to do–and an assessment of whether each will get done before year's end.
Immigration

The president was on track in September to take executive action to liberalize some aspects of immigration policy after House Republicans made clear they'd block legislation. But Senate Democrats feared retribution at the polls and Obama put his move on hold until after the election. Advocates expect some action–it's not yet clear how broad an order Obama will issue--to come in December.
Why it will happen: Obama reiterated Wednesday that he'd prefer to see Congress act on the matter, but he's out of patience. "Before the end of the year, we are going to take whatever lawful actions that I can take," to secure the border and deal with millions of undocumented residents already in the county. "What I'm not going to do is just wait," he said.
But he could hold off on acting until after the Louisiana runoff on Dec. 6.  Senator Mary Landrieu, the Democratic incumbent, is opposed to Obama bypassing Congress with an executive order on immigration.  Once that race is over, Obama has nothing to lose. 
Authorization for use of military force
There are actually three authorizations in question.  President Obama wants to repeal a 2002 authorization of military force in Iraq for the war that ended in 2011, and have Congress pass a new one covering action against the Islamic State now in Syria and Iraq. The third, and most significant, is the 2001 AUMF passed after the Sept. 11 attacks to cover the war on terror. While an anti-war bloc in Congress wants that one erased as well, Obama isn't trying to repeal it and neither is the congressional majority.  There is one time-sensitive issue related to this debate: authorization for a Pentagon program training Syrian rebels runs out in December.
Why it won't happen: House Speaker John Boehner indicated in September that he doesn't want decisions this significant to be made by outgoing lawmakers who can't be held accountable. Obama said Wednesday that he'll start the AUMF push in the lame duck session, but "it'll be a process." That may involve "getting it started now" and "it may carry over into the next Congress." 
The budget
A "continuing resolution" provides funding for the federal government through Dec. 11, safely delaying a showdown–and possible government shutdown fight–until after the Louisiana runoff.  But after that, another vote will be needed.

Why it will happen: Republicans don't want a shutdown on their watch. The question becomes whether Congress does a short-term patch, probably extending into March, or an omnibus spending bill in the $1 trillion range. One Senate Republican aide said many members want to get as much done as possible, so they can get the budget out of the way and focus on other issues next year. But Stan Collender, a former congressional budget aide, predicted Congress would pass another temporary funding measure. "Republicans would prefer to wait until March," Collender said, when they will be in full control of Congress.
Tax breaks
Congress will face pressure to act before the year's end of the year on extending dozens of lapsed tax breaks through 2015. Among them are the research and development tax credit, rules that allow small businesses to deduct more equipment costs, and breaks offering benefits for wind energy, teachers and multinational banks.
The IRS has warned that failure to act by December could cause a delay in the opening of filing season for some groups of taxpayers. Corporations also may be forced by accountants to report earnings for 2014 without including the tax benefits.
Why it will happen:  If Congress waits until next year, it could make filing more difficult for affected taxpayers–and Republicans would face the political fallout. 
Keystone Pipeline

The proposed Keystone XL oil pipeline from Canada through the U.S. is a divisive issue among Democrats, pitting environmentalists and farmers against oil states. The president said back in February that he would make a decision on whether to approve construction of the pipeline in "a couple" of months. By March, senior Obama advisers Valerie Jarrett and Dan Pfeiffer had indicated privately that theyopposed the measure, according to several officials. And John Podesta, Obama's counselor on climate and energy policy, was on the record against the project before he came aboard–though he's recused himself from a decision.

Why it could happen: It's an executive branch decision that doesn't depend on congressional control. The administration is awaiting the outcome of a court challenge to the planned route of the pipeline through Nebraska. Oil and gas are key industries in Louisiana, and Landrieu backed unsuccessful legislation to take away Obama's discretion on the pipeline. But there's plenty of time between Dec. 6 and the end of the year, if the courts weigh in and Obama decides it's time to make the call. 
On Wednesday, the president was noncommittal, saying the process was moving forward.
Nominations
Obama has 225 nominees pending in the Senate, 147 awaiting a vote and the others stuck in the committee process because of Republican opposition.
Why it will happen: Under a controversial modification to Senate rules, the Democrats can use a simple majority vote to confirm many nominees. Obama will want his party to act while they can.
Attorney general

Eric Holder is leaving, and Obama is said to be close to naming a replacement. "We have a number of outstanding candidates who we're taking a look at now," he said Wednesday, but offered few specifics.

Why it may not happen: Holder said late last month that he hoped his replacement would be confirmed by February, though senior White House aides say Obama could try to push through a nominee in the lame-duck session. But an attorney general is a bigger deal than most nominees, and there could be a long-term political cost if the nominee didn't have buy-in from the new Senate.  Simple logistics mean it could be difficult to complete confirmation hearings during the lame-duck session, and Holder is willing to stay on until a replacement is named.  
Iran sanctions
The latest round of nuclear talks between the Iranian government and U.S. and western allies is scheduled to end on Nov. 24. Assuming no agreement is reached, the deadline's passage is likely to trigger new debate in Congress about whether to expand U.S. sanctions on Iran, which Obama urged lawmakers from both parties not to do because of the negative impact it would likely have on negotiations.
Why it won't happen: There may be more threats, but it's unlikely more sanctions will pass in the lame duck. Reid, the majority leader, has blocked such moves so far and would likely continue to do so. But with Republicans taking over the Senate, that could change next year.