Nation's First Soda Tax is Passed in Berkeley, California
The residents of the Bay Area liberal enclave made history by passing the nation's first tax on sugary drinks.
By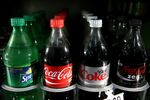 Take that, sugar! Residents of Berkeley, California, passed the country's first so-called soda tax on Tuesday. Measure D levies a one-cent-per-ounce tax on sugar-sweetened drinks.