Nation's First Soda Tax is Passed in Berkeley, California
The residents of the Bay Area liberal enclave made history by passing the nation's first tax on sugary drinks.
By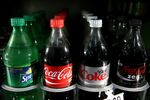 Take that, sugar! Residents of Berkeley, California, passed the country's first so-called soda tax on Tuesday. Measure D levies a one-cent-per-ounce tax on sugar-sweetened drinks.
"Berkeley has a proud history of setting nationwide trends, such as non-smoking sections in restaurants and bars, curb cuts for wheelchairs, curbside recycling, and public school food policies," Vicki Alexander, an activist who worked to pass Measure D, said in statement. 
A similar measure that would have imposed a two-cent-per-ounce tax on soda and other sugary drinks failed to pass across the Bay in San Francisco. 
The American Beverage Association, an industry group that represents soda manufacturers, had poured close to $10 million into defeating both voter initiatives. Thanks, in part, to the ABA's efforts, attempts to pass similar taxes in over 30 municipalities across the country have failed. 
Berkeley, however, proved to be different yet again. 
"Berkeley is unlike the rest of the country," Chris Gindlesperger, a spokesman for the American Beverage Association told Politico.