Politics
Mitch McConnell's Win, By The Numbers
A strong showing in Kentucky's coal country helped propel the incoming Senate Majority Leader to an unexpectedly big victory.
By
Mitch McConnell's Win, By The Numbers
A strong showing in Kentucky's coal country helped propel the incoming Senate Majority Leader to an unexpectedly big victory.
By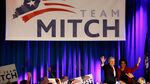 Mitch McConnell, the incoming Senate majority leader, was supposed to face the toughest re-election of his career on Tuesday. It wasn't close.
According to unofficial returns, McConnell beat Democrat Alison Lundergan Grimes by 56 percent to 41 percent, exceeding his victory margins in all but one of his five re-election campaigns. 
McConnell's vote share on Tuesday exceeded his 2008 election showing in 110 of 120 counties, according to a Bloomberg Politics analysis of unofficial returns. McConnell's biggest improvement came in the coal fields of Kentucky, where voters resisted President Barack Obama's proposal to toughen limits on power-plant emissions. McConnell repeatedly linked Grimes to an Obama administration that he and Republican supporters said was pursuing a "war on coal."
The coal industry isn't a major employer in Kentucky; it directly employs just 11,885 people, and 2013 production was the lowest in 50 years. But coal is part of Kentucky's socioeconomic fabric and key to understanding its history, and McConnell and his allies parlayed the coal issue into a broader campaign against the Environmental Protection Agency and the White House's regulatory policy.
It became clear shortly after 6 p.m. that McConnell would have a good night. That was when votes started trickling in from some counties including Harlan, on the Virginia border in Kentucky's southeastern corner. Harlan is the Kentucky's seventh-biggest coal producer, a county that even Walter Mondale carried in 1984. Grimes won an underwhelming 60 percent in the against two no-name opponents in the spring primary.
McConnell crushed Grimes with 72 percent of the vote in Harlan, up from 54 percent in 2008. As the following chart shows, the eight counties where McConnell improved the most over 2008 are all coal producers:

TV ads from McConnell's campaign pounded home the point. Of the 25,351 times that McConnell's ads ran on broadcast television for the 2014 election through Monday, 8,904 of them (35 percent) mentioned coal, according to Kantar Media's CMAG, an ad tracker. A pro-McConnell non-profit group, Kentucky Opportunity Coalition, and a pro-McConnell super-PAC, Kentuckians for Strong Leadership, combined to run coal ads another 10,095 times.
This ad from McConnell's campaign ran more than 1,000 times:
 Grimes's poor showing in the coal counties is just part of the reason she lost. to McConnell. In so-called wave election years like this, the losing party tends to underperform broadly. In Jefferson County in and around Louisville, the state's most populous jurisdiction and a Democratic bastion, Grimes led McConnell by about 36,000 votes and by 56 percent to 42 percent.
That was great news–for McConnell. Before the polls closed Tuesday,  Democratic Representative of Louisville John Yarmuth told Bloomberg Television's Peter Cook that Grimes needed to have a margin of at least 50,000 votes in Jefferson, and ideally win it by 70,000.