It's Official: Democrats Have Lost the Future in Texas (for Now)
What did Battleground Texas achieve? Don't ask.
By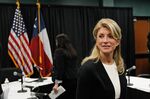 A week ago, I published a story about the Texas Republican Party's outreach to non-white, traditionally Democratic voters—especially Latino voters in the Rio Grande valley. Battleground Texas, which had been in the field for most of a year, was not fond of the story, and pushed back with data about the inroads it had made by flooding the state with organizers, giving Wendy Davis the sort of ground game that previous candidates never had. Jeremy Bird, the founder-turned-senior adviser of the group, explained in a memo that the turnout was proving Battleground right. Texas was changing. The map was turning purple.
In the 15 most populous counties, 198,586 Texans have already voted by mail in 2014 according to the Texas Secretary of State. By this time four years ago, only 124,181 Texans had voted by mail in these 15 counties. That's an increase of +60% over the last gubernatorial election (+74,405).

We have collected county-level data from more than 70 of the largest Texas counties in 2010 and 2014, and this data shows an even bigger increase.

 In these counties, which account for more than 85% of Texas voters, 1,092,006 people had voted early by mail or in person by this point four years ago. This year, that number has increased to 1,483,975 – an increase of +391,969 votes or +36%.
The Greg Abbott campaign pushed right back, with seemingly superior math. "We have compiled the final turnout totals from 13 of the top 15 counties, and they show turnout more than 2% lower than in 2010," the campaign told Karen Tumulty.
Yesterday, when I asked Abbott adviser Dave Carney what he was seeing in the Latino vote, he took the opportunity to smack around Battleground some more.
"These are the greatest geniuses of data in the f**king world and they can't figure out that less people voted?" asked Carney. "Every publicly pronounced goal of Battleground, every one, has been an abject failure."
The latest numbers, the votes and the exit polls, would appear to back up Carney. Take those 15 counties -- start with El Paso. In 2010, a horrid Democratic year, the party's gubernatorial nominee Bill White came out of the county with 54,257 votes, for a 61-37 margin over Gov. Rick Perry. This year, Wendy Davis won El Paso County with just 48,421 votes. Her margin was roughly the same -- Abbott turned out fewer voters than Perry did -- but that wasn't what you'd expect from the data brags. Davis won Dallas County with 222,819 votes, down from White's 234,478. White, the mayor of Houston, won his home county of Harris with 395,952 votes. Davis lost Harris narrowly, winning just 319,454 votes; she also lost San Antonio's Bexar County, another place where White had been able to squeak through. Davis only out-performed the 2010 ticket in her home base of Tarrant County (Ft. Worth).
Oh, and it got worse. Abbott's campaign said throughout the campaign that it would poach Latino voters, especially in the Rio Grande valley. A quick look at a Texas map might tell you that Abbott failed. Not quite true. Perry had lost Hidalgo County (McAllen) by 34 points; Abbott kept the margin down to 28 points. Perry had lost Webb County by 53 points; Abbott lost it by 39. In exit polling, Perry ended up pulling only 38 percent of the Latino vote. Abbott won 44 percent of it, about what was expected in a Texas Tribune poll that Davis allies tried to debunk. Abbott actually won Latino men, 50-49 over Davis. The Democratic wane and Republican outreach helped oust Rep. Pete Gallego, elected in 2012 in a district that sprawled across most of the border. He won 96,477 votes that year; he won only 55,436 this year, allowing black Republican Will Hurd to win, despite being out-fundraised 2-1.
All of this represents a threat to the great Democratic hope of 2012—the demographic future that would change the country and make it impossible for Republicans to win. And it didn't just break in Texas. In Nevada, Republicans swept the state legislature and took a swing House seat thanks to a collapse in Democratic turnout. In 2008, 2010, and 2012, Democrats had outperformed the final polls. They collapsed this year. In New Mexico, the GOP took the state House; in Colorado it took the state Senate. The party has not yet figure rout how to turn out an Obama coalition without Barack Obama at the front of it. And that was supposed to be the point of Battleground.