Airline-Stock Surge in U.S. Gets Help From Cheaper Oil
David Wilson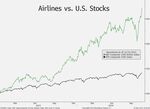 Lower oil prices may help airline stocks extend what's poised to become their best back-to-back annual performance in more than 20 years, according to Savanthi Syth, an analyst at Raymond James & Associates.
The CHART OF THE DAY compares the performance of airline stocks in the Standard & Poor's Composite 1500 Index with the broader gauge, consisting of companies in the S&P 500, MidCap 400 and SmallCap 600 indexes, since the start of last year.
Airlines rose the most among 66 industry groups during the period. Their index ended yesterday's trading with a 63 percent gain for the year, which almost matched their 67 percent surge in all of 2013. The gauge hasn't risen so much in consecutive years since calculations began in 1995.
Yesterday, the industry gauge surpassed 300 for the first time since March 2002 as crude oil dropped to multiyear lows in the U.S. and Europe, which may result in cheaper jet fuel. Fuel represents 36 percent of airline costs on average, according to an Oct. 31 report by Syth and another analyst, James D. Parker.
"Earnings growth should continue, and especially so at current fuel-price levels," they wrote. The report also cited the industry's profitability and financial position, along with the potential for increased dividends and stock buybacks.
American Airlines Group Inc., Delta Air Lines Inc. and United Continental Holdings Inc. are among the stocks worth buying, according to Syth, based in St. Petersburg, Florida. Parker is based in Atlanta.
Before it's here, it's on the Bloomberg Terminal.
LEARN MORE