Bank of Japan Board Changes Loom Over 2015 After Split
James Mayger and Toru Fujioka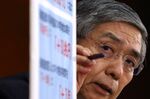 The Bank of Japan vote last week to expand stimulus was the closest since 2008. Changes to the board's makeup next year offer both risks and opportunities to Prime Minister Shinzo Abe to shore up support for reflation.
First up for Abe will be either reappointing or finding a replacement for Ryuzo Miyao, an academic by career who supported the surprise move four days ago, and whose term ends in March. In June, Abe can replace dissenter Yoshihisa Morimoto, a former business executive. Board members typically serve just one five-year term.
With analysts still seeing Governor Haruhiko Kuroda and his colleagues failing to meet the 2 percent inflation target in two years, any shifts in the board could tip the vote on whether to boost asset purchases even further. Abe's picks need approval by parliament, where lawmakers have increasingly flagged concern at excess weakness in the yen resulting from BOJ policy.
"There is great uncertainty about what will happen with the board next year," said Masamichi Adachi, senior economist at JPMorgan Chase & Co. in Tokyo. "Politicians will act in their own interests. If the BOJ's shock treatment doesn't pan out, they are likely to vote for someone who's against Kuroda."
The BOJ board includes the governor and two deputies, along with six other members, all with five-year terms, and it typically has a mix of career central bankers, academic economists and veterans from the private sector.
Close Call
The 5-4 decision by the board on Oct. 31 to raise the annual target for enlarging the monetary base to 80 trillion yen ($704 billion) was the closest since October 2008, when Masaaki Shirakawa used the greater weight of his vote as governor to break a 4-4 tie over how much to lower interest rates.
"With this split vote, the government understands that it is vital who replaces Miyao," said Takuji Okubo, chief economist at Japan Macro Advisors in Tokyo. "Miyao has ''great understanding of Kuroda'' and is an effective board member who should be reappointed, Okubo said.
Even before the Oct. 31 expansion, Toshihiro Nikai, chairman of the ruling Liberal Democratic Party's general council, called for the government to examine an exit strategy for the BOJ easing.
The central bank's actions will make people's life harder by driving up import prices as the yen weakens, Banri Kaieda, leader of the opposition Democractic Party of Japan, said on Nov. 1, according to Jiji News.
Last week's move sent the yen tumbling past 114 per dollar for the first time since 2007. It was at 113.66 as of 11:55 a.m. in Tokyo. The Topix index of shares jumped 4.3 percent on the day of the BOJ's announcement, anticipating further gains to earnings of companies with businesses abroad. It advanced 3.6 percent in the morning session today.
Moritomo's Seat
''Kuroda will be pleased with Morimoto leaving in June," said Takahiro Sekido, a strategist in Tokyo at Bank of Tokyo-Mitsubishi UFJ Ltd., who formerly worked at the BOJ. "That will make more certain that Kuroda has a majority."
Firms outside of manufacturing face pressure on their profits from the higher costs a weaker yen has imposed, Kuroda, 70, told reporters in Tokyo after the BOJ announcement. Even so, a weak yen has been positive to Japan overall, he said.
Kuroda, a veteran finance ministry bureaucrat who at one time was in charge of foreign-exchange matters, was picked by Abe in 2013 to head the BOJ, and his term lasts until April 2018.
Before it's here, it's on the Bloomberg Terminal.
LEARN MORE