Starwood Will Soon Let You Open Hotel Doors With Your Phone
By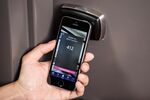 You get off a plane, grab a cab, and arrive at your hotel, only to stand behind a travel group as each tourist checks in one at a time. Starwood Hotels & Resorts is working toward a day when you'll skip the front desk entirely and simply open your door using your smartphone.
The service, called SPG Keyless, rolls out to Starwood loyalty customers on Nov. 5 at 10 hotels across its Aloft, Element, and W brands, including Aloft Beijing, W Hollywood, and Element Times Square. The hospitality company tested the program earlier this year and plans to make it available in 150 hotels around the world by early 2015.
Here's how it works: Starwood "preferred guests" register their phone through an app. Before arriving at a keyless hotel, they receive a message telling them they are checked in and the app will update with their room number and Bluetooth key when the room is ready. When they get to their room, guests can open the app, hold their phone to the door lock, wait for the green light, and … open sesame.
Keyless door locks are poised to become more popular. Apple announced in October that its stores would start carrying the August smart lock, a keyless entry system designed for residential use. In the hospitality industry, the transition is the next obvious step after the plastic cards that electronically unlatch hotel-room doors. Presumably, if you lose your smartphone, Starwood has a way to save you from sleeping in the hall.
Before it's here, it's on the Bloomberg Terminal.
LEARN MORE