America's Big Car Comeback and the Twilight of Pure Driving
By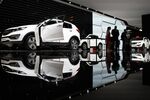 Americans are still crazy about cars, a love affair reaffirmed by October sales data released Monday morning, Nov. 3. But what if we no longer care that much about the experience of driving them?
Sure, a vocal minority is still clamoring for enjoyable rides in such vehicles as Porsches, Corvettes, and Ford Motor's new Mustang. Yet the mainstream American driver seems to have a waning interest in speed, acceleration, and sharp steering. Instead, cargo space often goes at the top of the car shopping list these days, along with safety and size in general. The lure of Costco, in other words, is trumping that of curvy roads.
Consider the cluster of brands that is Fiat Chrysler. Everything in its garage that resembles a regular-size car—from the Dodge Dart to the Chrysler 200 sedan—has seen sales slump this year. All its machines that are bigger, burlier, or both—Jeeps and pickup trucks—have enjoyed a sales surge. Even the Chrysler Town & Country minivan is hot for a minivan.

The supersizing extends to the American auto industry at large. In the first nine months of the year, sales of traditional and so-called crossover SUVs were up 12.2 percent, far ahead of every other segment. The machines that excel at just shuttling a couple of people around—compact and midsize autos—suffered static sales results, and big old sedans started looking increasingly like dinosaurs.

Swooning gas prices have accelerated the trend, giving shoppers one less reason to opt for something low and light. The average price of a gallon of gasoline is now $2.98, the lowest it has been in almost four years, according to AAA.
Of course, big cars these days are a lot more fun to drive than they used to be. But those improvements have happened across the industry. A current-model minivan can corner like the average American family sedan in the 1990s, but today's sedan, in turn, has performance stats once seen only in sports cars.
Detroit and the folks at Fiat headquarters in Turin, Italy, are likely thrilled with the fashion of increasing size. Bigger vehicles tend to cost more and command larger profit margins. And who cares what kind of cars people are buying, as long as they are, in fact, buying?
In fact, there is some evidence that Americans tend to buy simply the biggest car they can afford. SUV and truck-buying last peaked in 2005, when the economy was humming along nicely.
Bloomberg Intelligence Analyst Kevin Tynan still thinks this should be a little disconcerting to car executives. "All of this tells me we don't want to drive any more," he wrote in an e-mail this morning. "People would happily sit in the passenger seat of a mobile egg and let the vehicle drive itself while they play Angry Birds."
Google is already hard at work on that self-driving machine, and carmakers would do well to catch up. Look for it in 2018: the all-new Cadillac Escalade Egg.
Before it's here, it's on the Bloomberg Terminal.
LEARN MORE