Merkel Says East German Exodus Halted 25 Years After Wall
Brian Parkin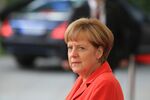 A quarter of a century after the fall of the Berlin Wall, the exodus of people quitting the former East Germany has come to an end, Chancellor Angela Merkel said in a video message.
Merkel, who spent the first 35 years of her life in East Germany before the communist regime collapsed, leading to unification with West Germany within the year, said that progress has been made in rehabilitating the eastern states since the events of Nov. 9, 1989.
While differences remain with the western states, notably in higher levels of unemployment, the younger generation in both east and west has now grown together, she said, echoing a comment made at the time by former Chancellor Willy Brandt.
"Today we have the flourishing landscapes that Helmut Kohl spoke of back then," Merkel, Germany's first chancellor from the former east, said in her weekly podcast posted on the Chancellery website yesterday. The six "new" eastern states "have been able to recover with the incredible help of the old federal states," she said.
Twenty-five years and some 2 trillion euros ($2.5 trillion) of west-to-east transfers after the Berlin Wall fell, reunited Germany is at last coming to terms with its domestic divisions and beginning to expand its global role to match its economic clout. Boasting a chancellor and a president from the former east, where infrastructure such as roads is often superior to its western equivalent, it's becoming increasingly hard to argue that easterners are the poor cousins of the west.
Jobless Decline
Economically, state subsidies and a skilled workforce have drawn companies such as Volkswagen AG to set up in the east. That has helped create jobs where once mass factory closures and the loss of state-run industries led to a tripling of unemployment within 15 months of reunification, reaching a post-World War II peak of 19.4 percent in March 2005. It now stands at 9.7 percent in adjusted terms compared with 5.9 percent in the west.
In turn, the availability of work has reversed the drain of talent. About 2 million people from the former German Democratic Republic left the region to seek new jobs in the two decades following the 1990 reunification, according to a 2009 report by the Halle-based IfW economic research institute that marked the 20th anniversary of the fall of the Wall.
Now, approaching the 25 year mark, the outward trend has been halted, Merkel said, citing the return to the east of many who had emigrated to western Germany. More people have relocated to the eastern state of Saxony from the west than the reverse in recent years, she said.
Looking back at the fall of the Berlin Wall, it was an "indescribable feeling," she said. "I don't think you ever forget these feelings. I certainly won't forget it."
Before it's here, it's on the Bloomberg Terminal.
LEARN MORE