U.K. Green Bank Mobilizes $8 Billion for Clean Energy
Alex Morales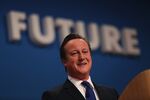 The U.K. Green Investment Bank mobilized 5 billion pounds ($8 billion) of total spending on carbon-cutting technology in the two years since starting up.
The Green Investment Bank has invested about 1.6 billion pounds in 37 projects around Britain, with companies putting in 3.7 billion pounds, it said today in an e-mailed statement. Details of two of the projects have yet to be announced.
The bank began operating in October 2012 and has been capitalized with 3.8 billion pounds to invest in projects from local energy efficiency programs to large offshore wind farms to try to cut carbon emissions and promote clean energy.
"We have become one of the best places for green investment anywhere in the world, and the Green Investment Bank has played an instrumental role in this," Prime Minister David Cameron said in the statement.
Before it's here, it's on the Bloomberg Terminal.
LEARN MORE