AB InBev Earnings Miss Estimates Amid Wide-Ranging Shortfall
Matthew Boyle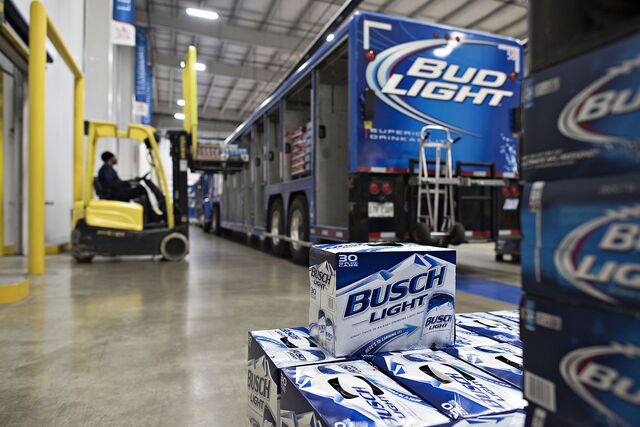 Anheuser-Busch InBev NV reported profit growth that trailed estimates as weakness in Europe and China compounded the brewer's inability to stem declines in its biggest market, the U.S.
The shares dropped after the Budweiser maker said adjusted earnings before interest, taxes, depreciation and amortization rose 1.3 percent on an organic basis. That compares with the 7 percent growth expected by analysts -- a "big miss," according to Societe Generale's Andrew Holland.
AB InBev joins rivals such as Heineken NV and SABMiller Plc, along with spirits maker Diageo Plc, in falling short of estimates this period as consumers reduce spending in developing and emerging markets. While Europe's softness is not new, China has been a particular sore spot in recent months as the slowing economy there hinders everyone from trench-coat maker Burberry Group Plc to food maker Nestle SA.
"It's disappointing and there seems to be weakness across the board," Trevor Stirling, an analyst at Sanford C. Bernstein, said in an interview. "Some of it is one-offs, but organic growth this year will likely come in at the bottom-end of what they were hoping for."
Shares Drop
The earnings growth is AB InBev's slowest since the first quarter of 2013. The quarter was a "one-off" in terms of profit performance and not an indicator for the year, the Leuven, Belgium-based company said. The world's largest brewer repeated that it anticipates an improvement in U.S. industry volumes, even as Chief Financial Officer Felipe Dutra said the third quarter was "softer than we expected" in the company's biggest region.
AB InBev fell as much as 3 percent in Brussels trading and was down 2.7 percent at 84.80 euros at 9:57 a.m. That trimmed this year's gain to 10 percent and cut the brewer's market value by about 4 billion euros ($5 billion) to 136 billion euros.
U.S. sales to wholesalers fell 3.7 percent after AB InBev sold more beer to distributors ahead of labor negotiations at its breweries. Sales to retailers slid 1.3 percent, and the imbalance between the two figures accounted for much of the profit shortfall in the quarter, Dutra said.
Market share in the U.S. fell about 30 basis points in the quarter, driven mainly by Budweiser, which "is not where we want it to be," Dutra said. Like competitor MillerCoors LLC, AB InBev has been battling lackluster sales of mainstream brands in the U.S. amid a shift in consumer preferences toward craft brands and spirits. Those declines have continued even as the U.S. labor market improves.
Chinese Weather
"There's no sign yet of a consumer spending pick-up helping the beer market," Holland, of Societe Generale, said in a note. "Increased marketing spend to resist craft beer growth took their toll."
The amount of AB InBev beer sold in the quarter fell 2.7 percent, with 40 percent of the decline stemming from Europe as volume plummeted in Russia, Germany and Belgium. AB InBev also had to contend with unfavorable weather in China. Organic sales rose 2.3 percent, missing the 4.4 percent analysts anticipated.
While weather was the "primary" reason for the 4.9 percent volume decline in China, Dutra also cited a "general deceleration" in the Chinese economy.
"Weakness in China has been a common theme across consumer staples this quarter," James Edwardes Jones, an analyst at RBC Europe, said in a note today before AB InBev reported.
Russian Decline
Brewers are also suffering in Russia, amid increased regulation. AB InBev suffered a 20 percent volume decline there in the quarter. Carlsberg A/S, which sells the most beer in the country, has taken to filling some bottles with less and making others smaller to limit price increases.
Today's report from AB InBev comes amid speculation that the brewer could seek to buy its main competitor SABMiller, the maker of Grolsch and Peroni. Dutch brewer Heineken said last month it spurned an approach from SABMiller. Such a deal would have strengthened SABMiller against a potential bid by AB InBev, people with knowledge of the matter said at the time.
"M&A remains part of our DNA," Dutra said. "We don't feel any pressure for an M&A transaction. We're not dependent on M&A for future growth."
Before it's here, it's on the Bloomberg Terminal.
LEARN MORE