VW Third-Quarter Profit Beats Estimates on Audi Demand
Christoph Rauwald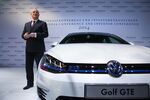 Volkswagen AG, Europe's largest automaker, reported third-quarter profit that beat analyst predictions on sales growth at the Audi and Skoda brands.
Earnings before interest and taxes rose 16 percent to 3.23 billion euros ($4.1 billion), the Wolfsburg, Germany-based manufacturer said in a statement today. The figure exceeded the 2.81 billion-euro average of 13 analyst estimates compiled by Bloomberg. Sales rose 4.1 percent to 48.9 billion euros.
"We have turned in a solid performance," Chief Executive Officer Martin Winterkorn said in the statement. "However, we must continue to focus on laying the foundations now that will enable us to respond" to challenges in the auto industry.
After years of rapid sales gains to pursue its goal of surpassing Toyota Motor Corp. as the world's biggest carmaker, Volkswagen has shifted focus to protect profit amid surging investment to meet stricter emission rules and develop new technology. At the VW car brand, the group's biggest unit, Winterkorn plans to reduce costs and boost productivity to improve earnings by 5 billion euros by 2018.
"VW is delivering very good results despite the increasingly difficult market conditions," said Frank Biller, a Stuttgart-based analyst at LBBW. "They seem to have costs under control."
The automaker's shares rose as much as 4.8 percent and were up 2.4 percent at 166 euros as of 10:18 a.m. in Frankfurt trading. The stock has dropped 19 percent this year, valuing the company at 79 billion euros.
Renault Gains
European carmakers have benefited from a rebound in demand as the region's market gradually recovers from a two-decade low reached last year. Renault SA, Europe's third-largest carmaker, surpassed analyst expectations with a 6.7 percent increase in third-quarter revenue to 8.53 billion euros. The company was lifted by demand for its no-frills Dacia brand. The stock rose today as much as 6.3 percent.
Third-quarter Ebit at VW's namesake brand increased 9.8 percent to 684 million euros. The carmaker has been spending on updating the European version of the Passat mid-sized sedan and station wagon and on revamping factories for a new modular toolkit to reap cost savings by sharing more technology among its brands.
VW anticipates higher revenue will contribute about one-third to the targeted 5 billion-euro in earnings gains through 2018. The rest will come from streamlining corporate processes, Winterkorn said in a presentation earlier this month.
Audi Profit
Audi, the world's second-largest luxury-car brand, has been pushing to narrow the sales gap to Bayerische Motoren Werke AG's namesake marque on the back of new cars like the compact A3 sedan. VW's biggest earnings contributed posted a 6.4 percent increase in operating profit to 1.16 billion euros.
The value-focused Skoda brand posted a 77 percent surge in operating profit to 226 million euros, lifted by demand for the Rapid sedan and wagon.
Volkswagen stuck to a forecast that group operating profit this year will amount to 5.5 percent to 6.5 percent of sales, which may rise or fall by 3 percent.
Robust sales growth in China and rising global demand for Audi and Porsche vehicles are keeping VW on track to exceed 10 million annual deliveries worldwide for the first time in 2014, four years earlier than targeted. The manufacturer plans to introduce 100 new or revamped vehicles through next year to put pressure on Toyota, including fresh versions of Audi's Q7 sport-utility vehicle and A4 mid-sized sedan and station wagon.
Before it's here, it's on the Bloomberg Terminal.
LEARN MORE