The Future of Political Advertising is Here
Political spots get very, very personal.
Annie Linskey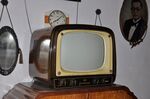 The blunt tool of television advertising is getting sharpened in this  year's midterms. The latest craze: Allowing a candidate to target you and your neighbor with completely different messages–even if you're watching the same show, at the same time, on the same block.
DISH Network Corp. and DirecTV–competing satellite TV providers–teamed up this year to offer campaigns a chance to sell ads to segments of their audiences.  Using demographic data, campaigns decide which viewers should see each ad (i.e. rural Republicans who drive hybrid vehicles) and the spot is seen only in those homes–unlike a traditional television commercial, which is broadcast to all viewers simultaneously. In short, the campaigns know who you are and what you watch, and they plan accordingly.
Campaigns have long used such research to develop direct mail advertising aimed at individual voters, but this year marks a first for television.  
At least from the companies' perspective, the results have been overwhelming. "If you could see us, we're jumping up and down," Warren Schlichting, an advertising executive with DISH, said in a telephone interview.
Sales are in the "eight figures," said DirecTV's Keith Kazerman. "The market has really embraced this."  Roughly 200 campaigns have signed up in 34 states, Kazerman and Schlichting said.
Colorado is particularly ripe for this type of advertising. Republicans typically live in rural areas, while the traditional TV markets are in urban, Democratic-leaning areas, he said. Advertising on DISH and DirecTV lets campaigns send a conservative message directly to those rural homes, bypassing the liberals. They'll only see the spot if a campaign does a bad job of targeting viewers. 
Who's using this service? The John Bolton SuperPAC, which was founded by the conservative former U.N. ambassador and is dedicated to promoting candidates who support strong national defense policies, is one early adopter. The group has placed TV spots using the DISH/DirecTV model in Arkansas and North Carolina to supplement an extensive online presence.  As part of its targeting research, it employed the consulting firm Campaign Solutions to combine and cross-check state voter files with consumer data such as magazine subscriptions, and also conduct personal interviews.
Then voters were sorted into 100 personality types and arranged into 28 clusters. The super-PAC now can deliver a different version of the same message to each cluster, either online or through the satellite network. "This is a way to communicate directly to individuals," Bolton said in an interview. 
For example: Here is a Bolton ad delivered to New Hampshire voters who are considered "argreeable" or fit into "cluster 1."  Though this spot is only seen online, it's targeted just like the satellite ads.


"Voters within this cluster have priority issues that include education, economy, and the future of the voters' children, with an emphasis on cooperation and altruism," said Garrett Marquis, a spokesman for the super-PAC. 
Representatives from DISH and DirecTV decided to limit sales this year to statewide races. In 2016, they plan to offer it in House districts, and hope to attract national dollars from presidential campaigns. President Barack Obama's operation did a version of this type of targeted advertising in 2012, reaching out to "sporadic Democratic voters" in 16 swing states, delivering the same message to all of them.  
Not all states are equally served by DISH and DirecTV.  Those with lots of satellite dishes (and competitive races this year) include Colorado, Arkansas and Georgia, according to data compiled by National Media. New Hampshire, Massachusetts and Hawaii are on the low end of the spectrum.
Bolton said he plans to do a post-election report to see how well his group's targeting worked, both on TV and online. And get ready for more targeted TV ads, because Bolton is considering publishing his report so other Republican campaigns can learn from it.
"I'm not in this to make money," he said.
Enjoy this article? Don't forget to follow @BPolitics on Twitter and like Bloomberg Politics on Facebook