The Future of Political Advertising is Here
Political spots get very, very personal.
Annie Linskey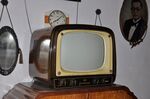 The blunt tool of television advertising is getting sharpened in this  year's midterms. The latest craze: Allowing a candidate to target you and your neighbor with completely different messages–even if you're watching the same show, at the same time, on the same block.