Thomas Menino, Longest-Serving Boston Mayor, Dead at 71
Annie Linskey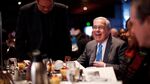 Thomas M. Menino, Boston's longest-serving mayor, who said he attended so many community meetings over his two decades in office that he personally met half of the city's residents, has died. He was 71.
He died today after battling cancer, according to his website. No other details were provided.
The five-term Democratic mayor, who didn't seek re-election a year ago, was known as Boston's urban mechanic for his focus on repairing pot holes, fixing fire hydrants and planting trees. His tenure at City Hall exceeded that of the sitting mayors in any of the country's 30 largest cities, according to data compiled by Bloomberg. He never aspired to higher office.
"I have no other ambition," Menino said in a 2000 interview with the Boston Globe. "I don't want to be governor or anything else. I like being mayor."
During his 20-year tenure leading New England's largest city, Boston grew about 10 percent and property values soared. From 1999 to 2009, new commercial real-estate construction per square mile surpassed that of the 10 largest U.S. cities, according to the Globe.
Menino, the city's first Italian-American mayor, was best known for transforming an expanse of parking lots by the water into a Seaport district that has become home to luxury condos and the Institute of Contemporary Art. Under his watch, John Hancock Financial Services Inc. moved its U.S. headquarters to the area, Vertex Pharmaceuticals Inc. built new corporate offices and State Street Corp. set its plans to relocate there.
Design Critic
As mayor, he was such a stickler for detail that he once rejected a Back Bay skyscraper because he didn't like the design of the top.
"Flat roofs don't make it," Menino told a real-estate executive, according to a 2009 Globe story. The developer returned with a dozen alternatives and placed each design atop a scale model of the building, the Globe said. Menino chose the one that looked like a crown.
Critics complained that he was thin-skinned, held grudges and favored developers who cozied up to him. One public rift was with builder Donald Chiofaro, who floated designs for two towers near the waterfront without Menino's sign-off, according to the Globe.
"The chances of Don Chiofaro building is about as likely as an 80-degree day in January," the mayor said in 2009.
Menino maintained a schedule packed with so many ribbon cuttings, news conferences and dinners that he claimed to have spoken to half of the city's 636,000 residents. A 2009 poll by the Globe found that 57 percent of respondents said they had met the mayor.
Anti-Gun Stand
He was an early supporter of gay rights and in 2012 rebuked Chick-Fil-A Inc. President Dan Cathy for opposing same-sex marriage by telling him not to open a restaurant in the city.
"There is no place for discrimination on Boston's Freedom Trail and no place for your company alongside it," Menino wrote in a July 2012 letter.
He was a founding member of the Mayors Against Illegal Guns, an anti-gun group started by former New York Mayor Michael Bloomberg, who is founder and majority owner of Bloomberg News parent Bloomberg LP.
In April 2013 after two bombs exploded at the finish line of the Boston Marathon, Menino checked himself out of a hospital where he was recovering from a broken leg. Though wheelchair-bound, he stood with the help of his son and spoke about his love for the city at an interfaith service attended by President Barack Obama.
'No Bounds'
"This is Boston," he said. "A city with the courage, compassion and strength that knows no bounds."
Hobbled by health problems including blood clots, Type 2 diabetes and a respiratory infection, Menino had announced a month earlier that he wouldn't seek a sixth term. At the time, he had a 73 percent approval rating, according to a Globe poll.
"When you have something you really love, you've lived 24-7 for the last 20 years, it is tough to say, 'No,'" Menino said. "But there is a time and a place for everything."
Thomas Michael Menino was born in Boston on Dec. 27, 1942. His father, Carl Menino, worked as a factory supervisor while his mother Susan maintained the home. He grew up and lived in the same Hyde Park district where his grandparents settled after emigrating from Italy and his parents spent their entire lives.
Early in his career, Menino sold insurance and took a job with the Boston Redevelopment Authority, a city planning agency that fired him from the position.
No Regrets
"Probably the best thing that ever happened to me," he told Boston Magazine in 2009. "I probably would have been stuck there still today."
Menino fared better on Beacon Hill, where he worked for then-state Senator Joseph Timilty, a Democrat, as a driver. He was promoted to chief of staff.
In 1982, when city council expanded to include a seat for his Hyde Park neighborhood, Menino entered the race. The next year, he won the seat at age 40.
Menino enrolled at the University of Massachusetts Boston in 1984. He graduated four years later with a bachelor's degree in community planning. On city council, he headed the budget committee.
In 1992, Menino ran for city council president, winning by a single vote.
The next year, President Bill Clinton tapped Mayor Ray Flynn as U.S. ambassador to the Vatican. Menino, next in line, became mayor in July 1993.
With his wife, the former Angela Faletra, Menino had two children, Susan Fenton and Thomas M. Menino Jr.