Warning: This Air Bag May Contain Shrapnel
Air bag supplier Takata faces legal problems amid driver deaths and mounting recalls
By , , , and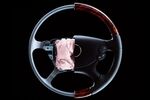 In 2010 the front seat air bags in Kristy Williams's 2001 Honda Civic deployed while the Atlanta-area woman was stopped at a light. Shrapnel allegedly flew from one of the safety devices during the blast that inflated them. The metal hit Williams in the neck, severing her carotid artery, according to a suit she filed in Georgia state court against Honda and Tokyo-based Takata, maker of the air bag inflator. Williams stuck two fingers in the wound to stop the bleeding as she waited for an ambulance. Her loss of blood led to several strokes, a seizure, and a speech disorder, according to the suit.
Honda and Takata settled with Williams in 2011. Joel Wooten, her attorney, says the terms are confidential and declines to discuss the case. Takata, which accounts for about a quarter of all air bag inflators produced globally, is finding it far more difficult to silence safety questions now that horrific details of shrapnel-induced injuries involving its products have made headlines in recent months. One Florida crash left a young driver with a metal shard in her eye socket. Another incident in that state resulted in gashes on a dead woman's throat so similar to stab wounds that police thought she'd been murdered. And a Puerto Rico fender bender left a woman with her jaw sliced open. Takata declined to answer specific questions about deaths and injuries involving its air bags.
Honda, Takata's largest customer, has so far confirmed two deaths and 30 injuries from the possible defect and is investigating two additional deaths in Florida and California. Several law firms led by Labaton Sucharow on Oct. 27 filed a proposed class-action suit in Florida against Takata and automakers including Honda, BMW, Ford, Nissan, and Toyota. It claims the defendants concealed the extent of air bag dangers.

The latest reports come six years after Honda first recalled 4,000 Accords and Civics in the U.S. outfitted with Takata air bags. Over the past 18 months, mainly regional recalls have been issued on 7.8 million cars in the U.S.—including some more than a decade old—from 10 automakers. The manufacturers say they initiated the recalls at the advice of Takata and in consultation with the National Highway Traffic Safety Administration. An additional 7 million cars of the same makes and model years were sold and may be on the road in other parts of the country, according to an analysis by Bloomberg of annual U.S. sales data. Others are on the road worldwide.
"This is a defect that has been festering for some time," says Clarence Ditlow, executive director of the Center for Auto Safety in Washington. "There's still a lot that's unknown, and the response has been appalling."
Takata, which has said it's cooperating with regulators and carmakers, issued an apology on Oct. 27. "We deeply regret that the recent recalls of vehicles equipped with our air bags have likely raised significant concerns and troubles to our product users, our customers, shareholders, and other stakeholders," Shigehisa Takada, the company's chairman and chief executive officer, said in a statement.
The issue has focused additional scrutiny on U.S. auto regulators, with lawmakers asking why NHTSA took so long before urging owners, in mid-October, to get their cars fixed immediately.
Takata's mounting troubles escaped public scrutiny for so long in part because the few lawsuits filed were generally settled quickly, before plaintiffs' lawyers could seek internal documents from auto companies during pretrial discovery, according to plaintiffs' lawyers. (Of 12 cases found involving Takata air bags, five have settled.) Now, however, some safety advocates express concern that the sudden air bag deployments are likely to occur more often, especially in models that are older than a decade, because the chemical at the core of the systems may have degraded. "If it's age-related, we may be seeing an increase in the next several years," Ditlow says.
In late October, Toyota and General Motors advised U.S. passengers not to sit in the front seat of several of their models containing Takata air bags—a warning Toyota had issued in Japan four months earlier. Toyota said that a defective inflator could be so dangerous that affected owners in humid areas of the U.S. should consider letting dealers deactivate the air bags in their cars if replacement parts aren't readily available.
NHTSA has told automakers that the failures seem to be concentrated in areas where high humidity contributed to the explosions. So the focus of many of the repair orders thus far has been on fixing cars in locations such as Georgia, Florida, and Puerto Rico. NHTSA urged owners of the vehicles in such areas to get the cars fixed as quickly as possible.
Air bags are based on technology used in military munitions and fighter-jet ejector seats, says Scott Upham, CEO of Valient Market Research. They are not soft and cushy. "Basically, you're dealing with a controlled explosion," says Upham, who worked briefly at Takata and has tracked air bags as an analyst for more than two decades. "You have a rapid creation of gas through a burning of a chemical that goes from a solid into a gas in milliseconds. You have to fill the air bag in an instant, and it's inflating at 200 miles per hour."

All of that happens in the bag's igniter, which vaporizes pellet-shaped chemical propellants. In a properly operating air bag, gas created by the charge is released through holes in a metal canister to inflate the bag, Upham says. That should happen over about 20 milliseconds, to prevent occupants of a crashing car from hitting the steering wheel or dashboard. If the propellant tablets are made improperly or degrade over time, they can become unstable or even turn to powder, Upham says. When superheated by the igniter, he says, they can vaporize. The resulting pressure can then quickly fragment the canister into shrapnel .
The chemical in Honda's Takata air bags, according to Honda spokesman Teruhiko Tatebe, is ammonium nitrate, a common explosive. Upham says the air bag propellant chemicals may become unstable in moist conditions, causing unusually forceful explosions when a bag deploys.
The compound was used in bags on the earliest model-year cars that have been recalled, including BMW's 2001 BMW 3 Series, Honda's 2001 Accord and Civic, and Nissan's 2001 Maxima and Pathfinder. Takata spokesman Toyohiro Hishikawa declined to comment about the company's choice of chemicals used for its air bags and referred questions to Alby Berman, a U.S.-based representative. Berman didn't respond to phone and e-mail messages.
Takata's shares have plunged about 50 percent so far this year as news of the injuries and the $413 million charge it took this summer against recall costs have spooked investors. That's a harsh turnabout for Takata, which rode Japan's postwar industrialization to became a global powerhouse in seat belts using skills it developed manufacturing parachutes for the Imperial Army. In 1973, Takata was the only company whose seat belts passed an NHTSA crash test standard at 32 mph. It began researching air bags in 1976 and started producing air bag inflators in 1991.
In 2005—in the middle of the decade in which Takata was making the air bags that are now being recalled—NHTSA, the top U.S. auto-safety regulator, presented then-President Juichiro "Jim" Takada with an award for improving auto safety. That love has faded. "We cannot speak to a recognition provided a decade ago," Brian Farber, a U.S. Department of Transportation spokesman, said of the award in an Oct. 24 e-mail. "Today we continue to aggressively investigate this faulty air bag and will leave no stone unturned in the name of public safety."
"No other supplier other than Takata has used this ammonium nitrate," says Jochen Siebert, Shanghai-based managing director of JSC Automotive Consulting, which advises automakers and parts suppliers. With the substance, "you could build air bags that were smaller and lighter," says Siebert, who worked in the air bag industry at the time Takata embraced the chemical. "It was all about technology; it wasn't even about price. But it all went wrong."
BOTTOM LINE -
The bottom line: After gruesome accidents, U.S. regulators are looking into the safety of air bags made by Japan's Takata.
Before it's here, it's on the Bloomberg Terminal.
LEARN MORE