Diamond Trading on Web Shines Light on Murky Gem Dealers
Thomas Biesheuvel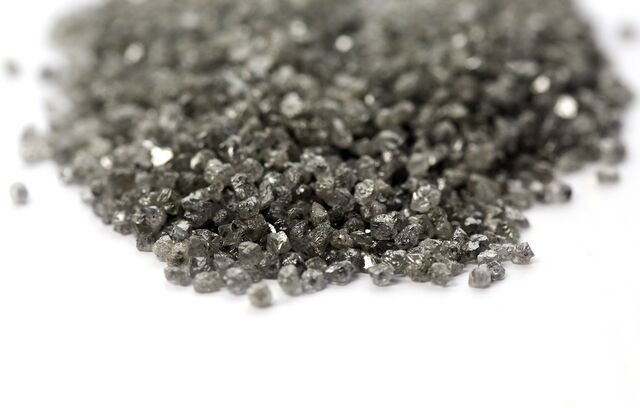 Six diamond dealers meet to bargain over $1.5 million of uncut stones. They're not in Tel Aviv or Antwerp. They're in the cloud.
In an online trading room that resembles an EBay Inc. auction, deals worth millions are sealed with a click. The button is marked 'mazal,' Hebrew for luck, and a holdover from the old ways. But the other practices that defined the trade for generations -- the handshakes, phonecalls, and furtive negotiations -- are being challenged.
The launch last year of the Bluedax website marked the first time the $18 billion-a-year trade ventured onto the Internet. Each month the site lists as much as $50 million of the gems for sale at fixed prices, and it will start auctions in November. Anyone registered can see the results, giving them real-time price data they can use as a reference for deals.
It's this transparency that sets Bluedax apart. From shabby shopfronts on Manhattan's 47th Street to the invitation-only "sights" at the Botswana offices of industry giant De Beers, the prices diamonds command are a closely guarded secret. Traders rely on experience, intuition and gossip to fix values for one of the best-performing commodities of the last five years. What a gem is really worth can be anybody's guess.
"The industry needs more pricing data, from producers and other parties," said Jeremy Wrathall, head of global natural resources at investment bank Investec Plc in London. "We need to see better clarity, and shareholders need to see what they're investing in."
'In the Dark'
The impact of price clarity has the potential to spread outside the close-knit industry. Investors, bankers and even governments have found diamond pricing impenetrable, making it hard to evaluate project values, estimate returns and calculate tax receipts.
Anglo American Plc's De Beers, the biggest producer, doesn't disclose how much it sells diamonds for, or which of its mines produce the most valuable stones. While WWW International Diamond Consultants provide an index for rough diamond prices and Rapaport lists asking prices, it's a long way from the live spot prices for other precious commodities such as gold to the humblest like corn.
"It's another guide for outsiders to see what's happening in the diamond industry," said Guy Harari, co-founder of Bluedax and a former "rough trader" with Rubin Steinmetz and Sons and Graff Diamonds. "For the investment community it gives them a very good indicator of what is happening in our industry. It is the last frontier in the diamond business that is in the dark."
Rough Road
Rough diamond prices have gained about 75 percent in the last five years as the U.S. recovered from the financial crisis and Chinese demand increased. Prices have gained about 7.5 percent this year, according to WWW International Diamond Consultants, the best guide available.
Gains have been underpinned by declining output at many of the biggest mines as supplies of accessible gems near the surface are depleted. The richest mines are now decades old -- De Beers opened the Orapa mine in Botswana in 1971 and its Jwaneng project, the largest diamond mine, in 1982.
From a mine in southern Africa to a fiancee's finger in Shanghai, diamonds take a tortuous path. The uncut stones are sorted into parcels based on their size, shape, quality and color: De Beers has more than 15,000 categories. The stones are then sold on, often crisscrossing trading hubs in Antwerp, Mumbai, New York and Tel Aviv multiple times before finding a buyer.
Lucky Dip
A large share of those stones start their journey at the "sights" held 10 times a year by De Beers. About 37 percent of all rough diamonds are sold by the miner, and the majority are marketed at sales, open to about 80 buyers, at its offices in Gaborone, the capital of Botswana.
Each participant is given a box containing plastic bags filled with stones. The buyer has been invited to place an order in advance, but all he knows for sure before he opens the box is the price, a fixed sum, often in the tens of millions.
Whatever the buyer finds, it's take it or leave it. If he takes the deal, he can sell the gems on down a long line of middlemen, commanding a premium as one of the privileged "sightholders" who get a first bite at the apple. If he walks away, he risks losing his spot.
Anglo bought the Oppenheimer family's 40 percent stake in De Beers for $5.1 billion in 2012, increasing its holding to 85 percent and ending the dynasty's 80-year ownership. Botswana controls the rest of the business, founded by the British imperialist Cecil Rhodes.
A De Beers spokeswoman in London said the company is aware of the Bluedax trading platform and declined to comment further.
Break With Tradition
Bluedax aims to capture traders selling De Beers sight boxes and parcels from De Beers' rivals, including Russian producer OAO Alrosa. The website, which was launched by Harari with his brother David last year, will open trading rooms to selected clients after De Beers' diamond sale next month. It currently has about 1,000 clients registered to buy and sell, and plans to increase that number in coming months. Prospective users must demonstrate they are financially sound and agree to pay a flat commission of 0.5 percent per trade.
For Bluedax the biggest obstacle may be the industry's ties to tradition. Between miner and jewelry retailer, the industry is impenetrable to outsiders and has been dominated by family-run firms who do business based on personal relationships.
"The mentality of the diamond business, it's 100 years old, it maybe needs more time than other industries to adapt to new ideas like this," said Harari. "We believe that the new generation will bring this change to our industry."
Before it's here, it's on the Bloomberg Terminal.
LEARN MORE