A Surprising Bid for a Blighted Slice of Detroit
A developer offers $3.2 million for 6,365 homes and lots
By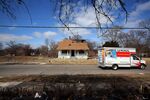 When Wayne County tax collectors put a package of 6,365 Detroit foreclosed houses and lots up for auction in mid-October, they didn't expect to attract any buyers. That's because the collection is a so-called blight bundle: About 2,000 of the parcels are vacant lots, and 3,000 are homes in such bad shape that the county is requiring any buyer to tear them down at an estimated cost of at least $24 million. Only about a thousand of the homes have any value. "I can't imagine that you're going to make money on this," says David Szymanski, Wayne County's chief deputy treasurer.
So Szymanski was more than a little surprised when, soon after the auction opened, a mystery bidder offered about the minimum of $3.2 million to buy—and take responsibility for—the properties. That turned out to be the only offer, and on Oct. 28 the county announced that Herb Strather, a local casino and real estate developer, won the auction. "Of course we're going to make a profit," he says. In 2006, Strather led an investment group that bought Detroit's Hotel St. Regis. After failing to pay taxes and defaulting on a loan, the group lost the property in 2009.
Finding a way to deal with Detroit's derelict buildings is critical for the city. Over the summer, a task force called for immediately tearing down what would amount to 10 percent of all structures, calling blight "a siphon on city vitality." The group surveyed the condition of every Detroit property and found sections where removing blight could prevent a whole neighborhood from collapse. "I had cancer 12 years ago, and this is exactly like cancer," Szymanski says. "If you don't get it all, it's going to come back."
Wayne County seizes properties after owners fall behind on taxes. When Szymanski joined the treasurer's office four years ago, he called the treasurer of Cuyahoga County in Ohio to compare notes. Szymanski says his counterpart, whose domain includes Cleveland, which was hit hard by the housing crisis, asked: "Are you sitting down? We are foreclosing on 4,500 properties." Szymanski says he responded: "I hope you're lying down," before telling the man that Wayne County had 42,000 properties in foreclosure.
The numbers have gotten worse. This year, Wayne County has started foreclosure proceedings on 56,000 properties, and county officials expect to foreclose on an additional 75,000 parcels next year. In the past the county sold homes individually or in small batches. Speculators would scoop up properties on the cheap, milking them for rent while not maintaining them—and they'd often skip paying taxes until the county was able to foreclose again. "The penalty was technically losing the property, but when your investment is so little to begin with, what's the incentive to pay your taxes?" says Craig Fahle, director of public affairs with the Detroit Land Bank Authority. "It's a bad cycle."

The blight task force suggested a plan: Auction a bundle of rundown lots so unattractive that no speculator would want it. Then after no one bid, the county would be free to transfer the properties to the city's land bank. Proceeds from selling the viable homes would help fund the demolition of the hopeless ones, and the land bank has programs in place for dealing with abandoned properties. The land bank is "very thoughtful" about finding ways to let neighbors and community groups finance and rehab properties, says Jill Ferrari, chief executive officer of Michigan Community Resources, a nonprofit that provides legal and other services to community organizations. The new blight bundle is the first attempt to follow that strategy. Everything is sold as is: The homes may lack furnaces or wiring, and they may come with mold, tenants, or both.
Strather wasn't deterred. "This is more than just an acquisition of parcels. It's an opportunity to redevelop the city I was born in and I plan to die in," he says. He wants to work with dozens of community organizations to finance and develop projects, particularly with the larger lots. He foresees keeping some of the best properties for his investment group. To demolish the 3,000 properties—which he must do within six months—he says he imagines trying to establish a joint venture with the city's land bank to tap federal funding.
That aspect of the plan could prove controversial. "If the thought is 'Let the land bank demolish all the dilapidated structures, and I'm going to take the nice places, sell them off, and make money,' " says Szymanski, "I don't think that's going to fly." He says he will talk to Strather to see if they can come up with an acceptable way to share the demolition costs. If Wayne County rejects Strather's plan, the properties will go to the city. Strather is optimistic they'll work something out. "Right now," he says, "I am so excited my toes are wiggling."
Before it's here, it's on the Bloomberg Terminal.
LEARN MORE