How Brazil's Rousseff Can Be a Better President
Having squeaked to victory, she needs to move the economy forward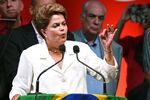 In her victory speech after winning reelection to a second term as president of Brazil on Oct. 26, Dilma Rousseff said, "I want to be a much better president than I have been until now." That shouldn't be too hard; she's presided over an era of political division and economic stagnation.
Rousseff's margin of victory over Aecio Neves was the slimmest in any presidential contest in three decades. Meanwhile, the economy entered a recession last quarter, and inflation is running above its targeted range. Brazil's budget deficit is widening, and its credit rating is in peril. On news of her reelection, the country's markets and currency promptly tanked.
What can Rousseff do? Her promise to revamp her cabinet is an opportunity to bring the country together politically and move it forward economically. Finance Minister Guido Mantega, whom investors blame for the budget gap, won't return. By replacing him with someone outside her party or coalition, Rousseff can show she plans to respond to concerns about Brazil's fiscal situation and growing consumer debt.
In a similar vein, Rousseff can use another appointment to shore up one of Brazil's most important sectors and to address one of her fastest-growing political headaches: the scandal enfolding state-run oil producer Petrobras, which is being investigated for overpriced contracts, cost overruns, and bribery. One of Rousseff's more controversial policies has been her use of Petrobras to import gasoline and sell it to the public at a discount, leading to operating losses of more than $44 billion at what's become the most indebted publicly listed oil company.
The departure of Energy Minister Edison Lobão is a chance to clear the air and set a new direction. What both the company and president need most is an unimpeachable technocrat who can dispel the taint of scandal and restore Petrobras to health.
Rousseff's election means that her Workers' Party will have held the highest office for 16 years—an unprecedented achievement. Nobody expects Brazil's economy to turn around in a year or even two. But change, however halting, must start now.
BOTTOM LINE -
To read Mark Buchanan on measuring nations' wealth and Clive Crook on Ebola policy, go to: Bloomberg.com/view.
Before it's here, it's on the Bloomberg Terminal.
LEARN MORE