AeroFarms Plans to Grow 1.5 Million Pounds of Leafy Greens in the Middle of Newark
Soil-free farming gets its first real shot, thanks to cheap LEDs—and "the ladies at JoAnn Fabrics"
By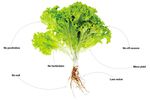 The last thing you expect to find midway down a shadowy alley in downtown Newark, N.J., is a farm. But that's exactly what's inside the former Distinct 89 nightclub and lounge, which closed last year. Past cluttered tables and industrial rolls of fabric, the dance floor has been cleared to make room for a 15-foot-high stack of planters, each one 10 feet long, 3 feet wide, and a foot or two deep. Stranger still, there isn't any soil beneath the leafy green vegetation bursting from the flower boxes. There's only air.
This is a test site for AeroFarms, a Delaware-registered startup focused on aeroponics, a kind of soil-free vertical farming. Essentially, an aeroponic farmer sprays a mist of a high-nutrient solution on plants to make them grow. The process takes far less space and water than nature would require, and zero pesticides. The idea has been around for decades, mostly among scientists studying how root systems operate outside soil. Until recently, technological limits kept true aeroponics largely beyond the reach of commercial growers.

AeroFarms founder Ed Harwood says cheaper, more advanced equipment, from software to lights to fabric, has made aeroponics feasible. His company, which says it's raised more than $36 million in venture capital, is betting that planting a farm in the middle of Newark, where it plans to move its headquarters, will work to its advantage. Earlier this year the company signed a 20-year lease on a 69,000-square-foot former steel factory two miles from the former nightclub in Newark's Ironbound district. There, AeroFarms plans to expand to 70 employees from 15 and build an urban farm capable of turning out 1.5 million pounds of produce per year, enough to supply about 60,000 people without digging any earth or shoveling any manure. "All of these things people are nostalgic for, I'm not," says Harwood. "We got into this because we didn't want to work as hard as regular farmers do."
Agriculture sops up 70 percent of human freshwater supplies, which are getting scarcer in the era of climate change. (Ask California.) For a crop such as kale or arugula, Harwood says his setup can grow plants faster with as little as 10 percent of the water. AeroFarms begins by scattering seeds on a permeable microfleece cloth stretched over a planter. Inside the modular, stackable container, nozzled hoses pump oxygen and the nutrient mist onto the fabric, forming a membrane on which the seeds germinate. Eventually they sprout silky roots that poke down through the microfleece to absorb more of the mist.
As the plants grow, additional hoses feed them carbon dioxide as sensors monitor humidity and room temperature. A conveyor belt propels the greens through a trimming device and discards the roots from the microfleece so the fabric can be washed and reused. Perhaps the most important element is an array of light-emitting diodes (LEDs). A control panel built by the Lighting Research Center at Rensselaer Polytechnic Institute lets Harwood fine-tune the color wavelength and intensity of the light, which, he says, alter crop yields, taste, appearance, and nutrient levels. Small changes can make kale taste sweeter or arugula more peppery.
Lighting is among the biggest costs for an aeroponic grower. Neil Mattson, a professor at Cornell's School of Integrative Plant Science who worked closely with Harwood to develop his "light recipes," says using only red and blue LEDs cut energy costs by 15 percent. AeroFarms has benefited from an 85 percent fall in the price of LEDs in the past six years, even as the output per watt doubled. That's a huge advantage over earlier efforts to commercialize aeroponics, says Richard Stoner, who received NASA research grants after making one such attempt in the 1980s. Stoner used lightbulbs filled with mercury vapor, which, unlike low-heat LEDs, had to be kept far away to avoid burning the plants.
Harwood, who holds a doctorate in dairy science from the University of Wisconsin at Madison, was the associate director of the Cooperative Extension at Cornell, which links up with local farmers to research agriculture and food systems. There, in 2002, he built a prototype aeroponic system with microfleece after testing other textiles. "I became friends with all the ladies at JoAnn Fabrics," he says. The following year he launched farming venture GreatVeggies, but he couldn't get it off the ground. In 2009 he received $500,000 in funding from 21Ventures and the Quercus Trust to start AeroFarms.
The company's plan was to sell aeroponic equipment, but as it conducted more trials—and lights and other equipment grew radically cheaper—growing vegetables began to seem more profitable, says Chief Executive Officer David Rosenberg, adding that produce prices will be similar to those of typical large field growers. AeroFarms has focused on the multibillion-dollar market for leafy-green salad ingredients, including fresh herbs and specialty microgreens. Most of the other aeroponic startups are doing the same, including Living Greens Farm in Minnesota and FarmedHere in Illinois. The latter already sells leafy greens to 75 grocers in the Chicago area, including local Whole Foods stores.
AeroFarms sued FarmedHere last year, alleging the Midwestern company stole trade secrets and infringed patents by refusing to pay licensing fees after leasing Harwood's proprietary equipment. The claims await arbitration; FarmedHere has denied the allegations but declined to comment on the litigation. "One of the problems with the patent is it's very costly to defend, and you could spend that money on R&D," says Robert Colangelo, CEO of Indiana-based Green Sense Farms, which sells leafy greens grown using hydroponics (growing in water, not air) to about 80 groceries.
A larger problem with aeroponics is the pollution from its outsize electricity use. Despite the advances in LED technology, Cornell agriculture professor Louis Albright says, a single head of lettuce grown under artificial light produces enough carbon dioxide at the average power plant to fill three 55-gallon drums. Harwood disputes those figures but wouldn't provide specific data. "I spent a decade working on this, and it's really great to move forward. The economics make sense at this point," he says. Rosenberg is more blunt: "I'm concerned about the environment," he says. "But I want to make money, too."
Before it's here, it's on the Bloomberg Terminal.
LEARN MORE