U.K. Banks Bracing for Tougher Leverage Ratio Than Europe
Ben Moshinsky and Jim Brunsden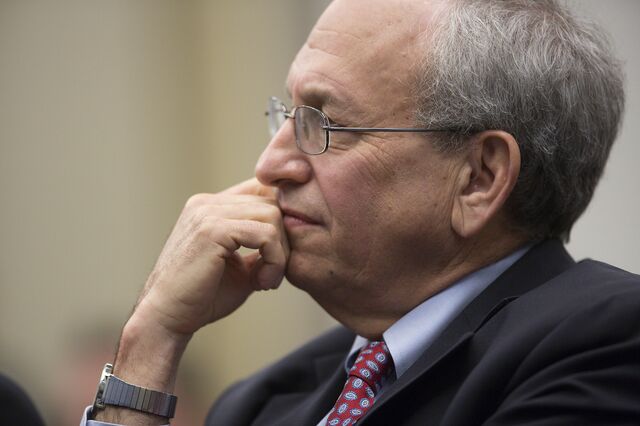 U.K. banks are bracing themselves for tougher debt-financing limits than their European competitors as executives warn that higher leverage ratios will lead to more expensive loans for homeowners.
The Bank of England is poised to join the U.S. in hitting banks with a leverage ratio that is seen exceeding the current global minimum of 3 percent mandated by the Basel Committee on Banking Supervision. The BOE, which took over U.K. banking regulation in 2013, will announce the outcome of a consultation tomorrow at 2 p.m. in London.
Global regulators turned to leverage ratios, the minimum of core capital banks must hold without weighting categories of loans by their riskiness, as part of efforts to help shield the financial system from future crises. Donald Kohn, a member of the BOE's Financial Policy Committee, told lawmakers last year that the current Basel minimum is "not enough," while a U.K. parliament panel recommended a 4 percent leverage ratio.
"The more boring the bank, the bigger the problem," Bob Penn, a financial regulation partner at Allen & Overy LLP in London, said in a telephone interview. "It can skew lending incentives for a risk-averse bank with a large mortgage portfolio but doesn't hit the Champagne Charlie down the road with a smaller balance sheet of high-risk assets."
U.S., Switzerland
In the U.S., regulators announced earlier this year that they would force eight banks including JPMorgan Chase & Co. and Bank of America Corp. to meet a leverage rule that surpasses Basel plans, forcing them to hold capital equivalent to 5 percent of assets. Swiss authorities require banks to meet a leverage ratio of at least 4 percent by 2019.
The largest Dutch lenders including ING Groep NV and ABN Amro Group NV also have to meet a leverage ratio of at least 4 percent by 2018. Finance Minister Jeroen Dijsselbloem, who chairs meetings of euro-area finance ministers, has said he favors a similar threshold for Europe.
Analysts led by Carla Antunes-Silva at Credit Suisse Group AG in London said in a note yesterday that the U.K. leverage ratio could reach 7.5 percent for some banks, with the base requirement at 4 percent. Regulators could give banks until 2019, in line with Basel III global leverage rules, they said.
'Immediate Impact'
Some British banks have already signaled concern. At Lloyds Banking Group Plc, the U.K.'s largest mortgage provider, Chief Financial Officer George Culmer told reporters on Oct. 28 that the measure "will have an immediate impact, one would have thought, on pricing" of products such as mortgages.
"Banks will have to include the new cost of capital on their pricing," Lloyds Chief Executive Officer Antonio Horta-Osorio said on the same day. Depending on what leverage level the BOE sets this week, "it will have less or bigger impact on mortgage pricing because it'll become a restriction."
At the end of this year, Barclays Plc will have a 1.8 percent capital gap, about 24.1 billion pounds ($39 billion), assuming it maintains a total leverage ratio of about 5 percent, Morgan Stanley analysts estimate. That compares with a shortfall of 0.8 percent for Royal Bank of Scotland Group Plc, 0.6 percent for HSBC Holdings Plc and 0.3 percent for Lloyds.
Spokesmen at HSBC and RBS declined to comment.
Economic Slowdown
The measure "could create perverse effects," such as "incentivizing banks to increase the cost of new mortgages or even to engage in higher-risk lending," said Simon Hills, an executive director at the British Bankers' Association.
With banks looking to pass on higher costs to mortgages and the economy cooling, housing demand may falter. U.K. economic growth slowed to 0.7 percent in the third quarter from 0.9 percent in the second, the Office for National Statistics said. London house values rose 0.4 percent in September after a 1 percent gain in August, according to Hometrack Ltd.
The global momentum behind leverage ratios has increased amid studies by regulators into whether banks have used internal models to conceal the true extent of their risks and thus scale back their capital requirements.
"Regulators know that leverage is risk-blind and, thus, a terrible measure of vulnerability," Karen Shaw Petrou, managing partner of research firm Federal Financial Analytics Inc. in Washington, said in an e-mail. "But as they learned in the crisis and especially in the European Union, risk weightings are no better as a guide to risk if the valuations underpinning them are flawed."
Barclays, Nationwide
Under the current plans from the Basel Committee on Banking Supervision, banks would be required to have Tier 1 capital, a measure of financial strength, equivalent to 3 percent of their total assets. While the rule would only be binding from 2018, banks will have to disclose how well they measure up to it from the start of next year.
The 42 biggest EU banks had an average leverage ratio of 3.7 percent at the end of 2013, when measured up against the Basel standard, the European Banking Authority said. Banks in the survey that didn't reach the Basel minimum level would have collectively needed an extra 21 billion euros in capital.
The U.K.'s central bank ran a capital review of the biggest lenders last year. Under the test, which modeled the effect of fines and asset losses, Barclays had a leverage ratio of 2.5 percent, well below the 3 percent threshold to pass the test. Nationwide Building Society was the only lender with less, ending up with a ratio of 2 percent.
Barclays Finance Director Tushar Morzaria told reporters on a call today that the bank has a "very sharp focus" on leverage. The lender had a leverage ratio of 3.5 percent at the end of the third quarter, according to a statement today.
"The leverage ratio incentivises three things -- first to reorganize your asset base to make it more leverage-ratio friendly; second to deleverage and third to raise capital," Allen & Overy's Penn said. "Query whether banks will choose deleveraging and restructuring over further capital issuance."
Before it's here, it's on the Bloomberg Terminal.
LEARN MORE