Kurdish Peshmerga Cross Into Kobani to Battle Islamic State
Selcan Hacaoglu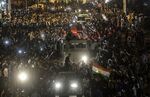 Iraqi Kurdish fighters began crossing into the Syrian frontier town of Kobani from Turkey to join the fight against Islamic State militants, according to a monitoring group.
Ten Iraqi Kurdish troops, known as Peshmerga, entered Kobani and others were expected to follow in the coming hours, the Syrian Observatory for Human Rights, which monitors the fighting in Syria, said in an e-mailed statement. The advance group will decide where to deploy the rest of the force, Turkey's state-run Anadolu Agency said, citing Iraqi Kurdish official Osman Riseyi.
Turkey said about 150 fighters arrived at the border earlier today armed with weapons including mortars and Katyusha rocket launchers. Syria accused Turkey of violating its sovereignty by allowing "foreign forces, terrorists" to cross the joint border, according to state television today.
The Peshmerga will join Syrian Kurds in Kobani trying to break the weeks-long siege by Islamic State, an al-Qaeda breakaway group that has captured large areas of Syria and Iraq since June. Kurdish fighters in the city have held off the militants with the help of a U.S.-led bombing campaign and airdrops of weapons and other supplies.
Intensified Shelling
The capture of the town, known as Ayn al-Arab in Arabic, would give Islamic State control of more than 100 kilometers (60 miles) of uninterrupted territory along the border with Turkey. The militants intensified their shelling of Kobani over the past two days, according to Kurdish commanders there.
"The arrival of weapons will help outgunned Kurds in Kobani against Islamic State to a certain degree, while it is unlikely to change the tide of war in their favor," Oytun Orhan, an analyst at the Center for Middle Eastern Strategic Studies in Ankara, said by phone today.
"Fighters in Kobani were only asking for weapons while reluctantly agreeing to the deployment of Peshmerga and Free Syrian Army rebels," Orhan said. "They insisted that the number of fighters from outside be kept to a minimum so they can't challenge their rule in the area."
About 50 members of the Western-backed rebel Free Syrian Army, or FSA, joined fellow fighters in Kobani yesterday to strengthen the town's defense.
Four hundred FSA fighters are in Kobani, out of a total of 2,000 forces resisting Islamic State there, Nizar al-Khateeb, a commander of the group, said at a news conference in Istanbul today.
Turkey agreed last week to let the Peshmerga cross into Syria through its territory. President Recep Tayyip Erdogan has opposed arming the city's local defenders, who are linked to the Kurdistan Workers' Party, or PKK, which has fought for autonomy in Turkey since 1984 and is classified as a terrorist group by the Turkish and U.S. governments.
Before it's here, it's on the Bloomberg Terminal.
LEARN MORE