Phillips 66 Profit Doubles as Oil Costs Slide in Quarter
Zain Shauk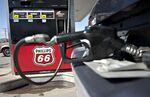 Phillips 66, the largest U.S. refining company by market value, reported a surge of cash in the third quarter as lower crude-oil prices spurred a more than doubling in profit.
The biggest decline in crude prices since the global financial crisis has benefited refiners like Phillips 66 that process it into gasoline, diesel and other products. Benchmark U.S oil futures averaged $97.25 a barrel during the quarter, down 8.1 percent from a year ago amid a boom in North American production from shale. The difference between U.S. and international oil prices also widened in the quarter, helping refiners who use the cheaper crude.
"They are making extra dollars per barrel off of that because they are buying that oil at a discount," Rob Desai, an analyst for Edward Jones in St. Louis, said in a phone interview. "There's certain regions in the U.S. where there is a lot of production where that discount in oil is more prevalent and they've done a good job of moving that oil to their refineries."
Phillips 66 said 95 percent of the oil it bought in the U.S. was below Brent prices, a record for the company. It was able to buy oil at lower prices than analysts expected because of its ability to move it on pipelines and a fleet of more than 3,200 rail cars. The company said today it will add 500 rail cars to move crude to refineries in the first quarter.
Exports Fall
Exports of refined products fell 29 percent from the second quarter to 129,000 barrels a day. The shift came as Phillips 66 reaped high U.S. prices for its fuels, reducing the benefit of shipping to foreign markets on costly tankers, Desai said.
Net income rose to $1.18 billion, or $2.09 a share, from $535 million, or 87 cents, a year earlier, the Houston-based company said in a statement today. Excluding one-time items, per-share profit exceeded the $1.75 average of 15 analysts' estimates compiled by Bloomberg.
Sales declined 8.3 percent to $41 billion from $44.8 billion a year earlier. Refining earnings were $558 million in the quarter, compared with a $30 million loss in the prior third quarter. Chemicals profit fell 12 percent in part because of a fire at an ethylene plant.
Phillips 66 has been investing in pipelines and chemical plants, where it sees growth from booming North American oil and natural gas output, while U.S. demand for refined products remains unchanged. Yesterday, Phillips 66 announced it would join with Energy Transfer Equity LP and Energy Transfer Partners LP to develop pipelines to bring crude from rapidly expanding production in North Dakota to refineries.
The company, which was spun off from ConocoPhillips in 2012, last year sold units in a pipeline and logistics partnership that now has a market value of about $4.8 billion.
The shares, which have 14 buy and seven hold recommendations from analysts, dropped 1.5 percent to $76.39 at the close in New York.
Before it's here, it's on the Bloomberg Terminal.
LEARN MORE