Mosul's Children Lured to Islamic State to Swell Ranks
Zaid Sabah and Caroline Alexander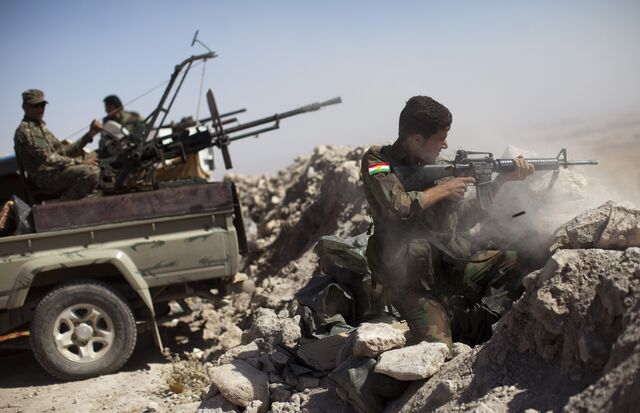 Thirteen-year-old Abdullah came home in Mosul one day with a big smile because he had a new job. He told his parents that he was now a fighter for Islamic State in Iraq and the group had given him a gun.
"We laughed at first, and told him he was just a child," his uncle, who asked to be identified as Abu Rawan, said by phone from Mosul. "Then we realized he was serious."
The family subsequently barred him from leaving the house to keep him off the streets, where they say Islamic State has set up dozens of centers to recruit young fighters since seizing Iraq's biggest northern city in June.
The al-Qaeda breakaway group has lured and coerced hundreds of the city's youth into joining its ranks, according to an official from Nineveh province's education department, who asked to be identified as Abu Marwan for security reasons. The drive has intensified since U.S. airstrikes began in August, residents say.
"They are everywhere now," the official said. "You can see them in the streets carrying weapons, manning checkpoints, watching people to make sure they are not smoking and that women are" covering their faces, he said.
The recruitment drive underscores Islamic State's plan to build a base of loyal supporters as it seeks to entrench its rule, said Fabrice Balanche, a lecturer based in Lyon who specializes in Syria and Iraq. "ISIS works like a sect, you need to get them young to indoctrinate them," he said, using another name for the group.
Mosul University
After seizing the city, Islamic State set up a recruitment booth at Mosul University, and housed fighters in abandoned military barracks. The U.S. bombing campaign has forced militants to move into local neighborhoods in smaller groups, out of reach of airstrikes and in closer proximity to families like Abdullah's.
The 13-year-old encountered fighters on his street who told him he should visit their new centers in the neighborhood. He then watched a video of Islamic State battles in a nearby house, which had been converted into a makeshift Internet cafe and cinema.
One of the fighters "said we can be heroes just like the men in these videos and we can have a salary and a gun," Abdullah, who registered his name, said in a phone interview conducted with his family's consent. "I thought I will be a hero and help my family with money but my father told me this is a bad idea and I will have a job one day if I study and finish my school."
Classroom Recruitment
That won't be easy, either. Since the city's takeover, many families have refused to let their children attend school, in part out of concern that classrooms will be used for recruitment, according to Um Mustafa al-Nuaimi, a teacher.
On Oct. 18, Islamic State issued a new curriculum that canceled the physical education classes and replaced them with martial arts, al-Nuaimi said. The militants "said they need Mosul's students to become future soldiers of the caliphate," she said by phone.
The group hasn't limited itself to recruiting boys in Mosul and surrounding areas. Marriages between militants and local girls are also becoming increasingly common, especially in tribal areas outside Mosul, said Balanche, the France-based analyst.
"There is a whole project to integrate the local population through marriages and child fighters," he said.
Islamic State has also kidnapped children from ethnic minorities in Iraq and Syria. Militants today released 25 Kurdish children held hostage since May after they were abducted from their school in the Syrian town of Kobani, according to the Syrian Observatory for Human Rights, citing unidentified "trusted sources."
Zuhair al-Chalabi, the head of the national reconciliation committee in Nineveh province, said that in some outlying towns every family had a son or daughter now tied to Islamic State. The committee was formed in 2006 by then-Prime Minister Nouri al-Maliki to bridge divisions between the country's sectarian groups.
"It is getting harder to separate the fighters from the people," he said.
Before it's here, it's on the Bloomberg Terminal.
LEARN MORE