Hedge Fund VIX Wagers Tip Toward Turbulence After Selloff
Callie Bost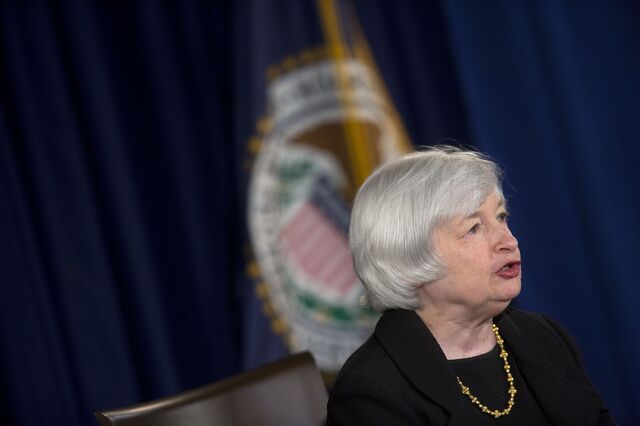 One of the surest bets in the U.S. stock market over the last 2 1/2 years, speculating on tranquility, is being abandoned.
For the first time since 2011, the balance of futures owned by hedge funds and other large speculators on the Chicago Board Options Exchange Volatility Index represents wagers that equity turbulence will increase, according to data compiled by the Commodity Futures Trading Commission. Managers added long holdings after a selloff that sent the Standard & Poor's 500 Index down as much as 9.8 percent in the 26 days ended Oct. 15.
Expectations for equity price swings reached the highest in about three years this month as the VIX touched 31.06, more than twice its average level since the start of 2013. The Federal Reserve's diminishing presence in the market is making traders hesitant to re-short volatility, according to Dan Deming, managing director at Chicago-based Equity Armor Investments.
"People are realigning their expectations," Deming said by phone Oct. 27. "You're seeing a little bit of a pullback in trying to be short the volatility space. Without the Yellen or Bernanke put, the backstop is viewed is not being as stable as it was."
Bets against volatility paid off in 2012 and 2013 as the VIX, a gauge of S&P 500 options prices that rises as price swings get more pronounced, plunged 41 percent. Traders who are short VIX futures are betting on calm in the markets.
Shorts Challenged
Hedge funds held about 114,000 long positions and 113,000 short ones through Oct. 21, CTFC data show. Given that breakdown, investors would gain $1.7 million with every 1 point increase in the VIX, according to the data.
The short trade was challenged this month as signs of a slowing global economy and concern Ebola will spread erased more than $2 trillion from U.S. equity values between Sept. 18 and Oct. 15.
During the selloff, the VIX closed above 20 for six straight days, the first time that's happened since June 2012. The volatility caught traders off guard, spurring them to buy back futures to cover short sales and contributing to a spike in the VIX during that time, according to Ramon Verastegui, the head of engineering and strategy at Societe Generale SA.
"Hedge funds are natural sellers of volatility to gain premium," Verastegui said by phone in New York Oct. 27. "Little by little, they have been covering those shorts. This is one of the reasons we saw volatility pop up."
Fed Put
Earnings that beat analysts' forecasts, data showing strength in the U.S. economy and dovish language from Fed officials soothed investor concerns and helped reverse the worst S&P 500 plunge this year. The benchmark equity gauge has rebounded 7.3 percent since 10:25 a.m. on Oct. 16, when Bloomberg News reported Fed Bank of St. Louis President James Bullard said U.S. policy makers should consider delaying the end of quantitative easing.
Fed Chair Janet Yellen and her colleagues confirmed the central bank will end its asset-purchase program while maintaining its commitment to keep interest rates low after a two-day policy meeting. The S&P 500 fell 0.1 percent to 1,982.3 at 4 p.m. in New York, while the VIX jumped 5.3 percent to 15.15.
The removal of stimulus has corresponded with bouts of volatility in the past. When the Fed concluded its first round of QE in March 2010, the VIX more than doubled over the next two months, reaching a closing-level peak of 46. When the second round of QE ended in June 2011, the volatility gauge was near 16 and then jumped, averaging about 30 through the third quarter.
'New Normal'
"Institutional money is likely speculating on increased market volatility as QE is ending and a new normal range for VIX is established, perhaps somewhere in the 15 to 18 range," Scott Maidel, an equity-derivatives money manager in Seattle at Russell Investments, said in an interview yesterday. There will be "less government intervention via QE and more price action based on fundamentals and price discovery," he said.
While hedge funds decrease wagers on lower volatility in favor of long positions, buyers are still piling into an exchange-traded note derived from short positions in VIX futures. Investors have added about $752 million to the VelocityShares Daily Inverse VIX Short-Term ETN this month through Oct. 27, the most since the note began trading in 2011, according to data compiled by Bloomberg.
The VIX dropped 10 percent to 14.39 yesterday, 24 percent below its five-year average of 18.86. The two most-owned options on the VIX are ones expiring Nov. 19 with strike prices of 20 and 25, respectively.
VIX Futures
"Volatility at these levels is not that abnormal," Eric Metz, a derivatives strategist and fund manager at RiverNorth Capital Management LLC, said by phone Oct. 27. "Volatility may even subside after the Fed meeting unless something extremely out of left field is mentioned."
Futures on the volatility gauge expiring in November ended yesterday at 15.7, 9.1 percent above the VIX's closing price, according to data compiled by Bloomberg. Contracts expiring in December closed at 15.9, while January futures ended the day at 16.65.
"Now we've had a prolonged period of high volatility, we've seen a lot of people covering short positions," Max Breier, a senior equity derivatives trader at BMO Capital Markets Corp. in New York, said by phone Oct. 27. "The short volatility trade has worked for such a long time that people had obviously gotten too complacent there."
Before it's here, it's on the Bloomberg Terminal.
LEARN MORE