Fiat Chrysler Spins Off Ferrari in Cash Grab
Tommaso Ebhardt and Mark Clothier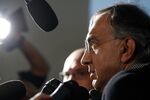 Fiat Chrysler Automobiles NV plans to spin off Ferrari, unfettering the luxury sports-car maker from its less-profitable parent.
FCA will sell 10 percent of Ferrari's shares and give the rest of its 90 percent stake to its own shareholders, the company said today in a statement. The separation will be complete next year, and Ferrari shares will be listed in the U.S. and possibly also in Europe.
Ferrari and FCA, formed this month from the merger of Italy's Fiat and U.S. automaker Chrysler, need to "pursue separate paths" as FCA tries to complete a 48 billion-euro ($61.2 billion) expansion plan by 2018, Chief Executive Officer Sergio Marchionne said in the statement. FCA shareholders, meanwhile, will get a piece of a new company that may be worth about $7.4 billion, said Richard Hilgert, a Chicago-based analyst for Morningstar Inc.
"It unlocks the value," Hilgert said. "The street's perception of low profitability to no profitability for the Fiat side of the operations has overshadowed the value of the global exotic sports-car maker."
FCA rose as much as 19 percent, the most since the merged shares were listed on Oct. 13, and was up 12 percent to $10.91 at 10:12 a.m. in New York.
Based on Hilgert's estimate and the current number of FCA shareholders, the Ferrari spinoff would be worth $5.90 a share to FCA owners.
Strategy Clash
Today's spinoff announcement comes just weeks after Marchionne orchestrated the departure of previous Chairman Luca Cordero di Montezemolo, who resigned last month after 23 years. The two men had clashed over strategy, with Marchionne saying at the time that Ferrari cars "have and will continue to define us."
Ferrari, based in Maranello, Italy, had long been run relatively independently. Montezemolo, who took charge of the unit in 1991, wanted to maintain Ferrari's autonomous status and not become a subsidiary like Volkswagen AG's Lamborghini.
"Do I think they are essential to the configuration of FCA forever? The answer is no," Marchionne said last month. "But they represent the best of what a carmaker can be."
Before it's here, it's on the Bloomberg Terminal.
LEARN MORE