France Probes Mystery Drones Flying Over Nuclear Reactors
Tara Patel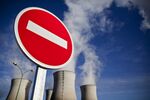 Reports of unidentified drones flying over seven French nuclear plants this month are being investigated, France's interior minister said.
"There are means to neutralize these drones. I won't explain how they work," Bernard Cazeneuve said on France Info radio today. "There is a judicial investigation underway."
Electricite de France SA, which operates all the country's 19 atomic plants, said yesterday that security teams had detected the presence of "illegal" aircraft resembling drones within seven atomic sites' protected air space. A company spokeswoman said by telephone that the utility had filed a complaint with police.
The anti-nuclear group Greenpeace, which has sneaked into nuclear sites to highlight security lapses in the past, denied any involvement. In 2012, an activist landed a paraglider inside a plant to show the risk of aerial attack.
"We are very worried about the repeated existence of these suspicious flights," Greenpeace said in a statement yesterday. "Neither EDF nor police have provided an explanation."
Greenpeace and EDF have long been at odds about the safety of nuclear energy and France's reliance for power on reactors operated by EDF. Following security breaches by activists in 2011 and 2012, the utility set aside at least 400 million euros ($505 million) to boost security at the plants with measures including guards, alarms, fences and dogs.
The most recent intrusions had no consequences for nuclear safety or reactor operations, the EDF spokeswoman said late yesterday. The first suspected drone flight was detected Oct. 5, followed by more between Oct. 13 and Oct. 20 at seven sites including Blayais, Bugey, Cattenom and Nogent-sur-Seine.
Under French law, aircraft are forbidden from flying within a five-kilometer (three-mile) perimeter less than 1,000 meters above a nuclear plant, the spokeswoman said. Infringements are punishable with prison and fines.
Before it's here, it's on the Bloomberg Terminal.
LEARN MORE