Democratic Pollster: Midterm Voters Want to Punish Obama, Not Reward Republicans
As the election nears, Geoff Garin says he's less pessimistic about his party's chances of holding the Senate.
By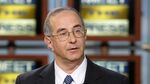 Republicans eyeing a Senate majority in Tuesday's election are burdened by an unappealing party brand on policy issues that didn't exist in the last midterm election, according to a leading Democratic pollster.
"There was no content to the Republican brand" in 2010 and there is now "a much more robust view of the Republican Party as being too extreme, too obstructionist, and too likely to side with millionaires over the middle class," Geoff Garin, the president of Hart Research Associates, told Bloomberg News editors and reporters Wednesday in Washington.
At the same time, the White House's party almost always loses ground in Congress in lower-turnout midterm elections, and President Barack Obama's poor approval rating is a drag on Democratic candidates. Voters "want to punish Obama, but they don't want to reward the other guy," Garin said.
Garin said he's "a little less pessimistic" than he was a week ago about Democrats losing their Senate majority. "Democrats are still fighting significant headwinds in a lot of different places, but it's a little bit easier to see a path to 50 [Senate seats] today than it was a week or two ago," he said, adding that Democrats have pulled even to Republicans in Colorado and Iowa.
With Democrats defending 21 of the 36 Senate seats, including seven in states that Obama lost in the 2012 election, Republicans may make the net gain of six seats needed to secure a majority. Republicans are likely to expand the majority in the House they won in 2010, when they fell short of winning control of the Senate.
In specific races, Garin said that Minority Leader Mitch McConnell "ran a really good campaign" in Kentucky and would bet that he defeats Democrat Alison Lundergan Grimes. (Check out this ad McConnell's campaign introduced this week). In Louisiana, "Republicans will have the advantage" in an expected Dec. 6 runoff between Democratic Senator Mary Landrieu and Republican Representative Bill Cassidy, Garin said. 
A Jan. 6 runoff in Georgia is a "kind of a 50-50 proposition," Garin said. Democrat Michelle Nunn has run a good campaign and Republican businessman David Perdue "has been a horrible candidate" and is "sort of Mitt Romney without any humility," he said. Republican Senator Saxby Chambliss is retiring.
Garin said that Kansas and Colorado are "the two most interesting states in the country right now." In Kansas, which historically has voted Republican for president and senator, Republican incumbent Pat Roberts is in an unexpectedly close race with independent businessman Greg Orman. In Colorado, where Democratic incumbent Mark Udall faces Republican Representative Cory Gardner in a state Obama carried in 2012, all voters received ballots in the mail for the first time.
Looking ahead to the next presidential election, Garin said that Republicans for 2016 have "a better field than they had in 2012," though there's "nobody who makes me quake in my boots."
For the final nine weeks of the 2008 presidential campaign, Garin was the chief strategist to Hillary Clinton, who has a huge lead in early presidential preference polls of Democratic voters.