Deals Lost as 14-Hour Ghana Blackouts Risk Economy's Growth
Ekow Dontoh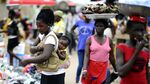 Grace Amey-Obeng is tired.
The 57-year-old cosmetics company owner has turned down a deal to ship her products to the U.S. because Ghana's power supply is too erratic.
"I had to let them go," she said in an interview at her office in Accra, the capital, as she used a hand towel to wipe beads of sweat from her face. The electricity's off, so there's no fan to ease the 33-degree Celsius (91-degree Fahrenheit) heat or machinery to make her goods. "I don't have regular power to produce and supply the creams and soaps to the market."
Ghana exports oil, is the world's second-biggest cocoa grower and the largest gold producer on the continent after South Africa. That's not been enough to keep the lights on with officially scheduled blackouts lasting as long as 14 hours, slowing growth and forcing businesses like Amey-Obeng's Forever Clair Group Co. to scale back and say no to potential contracts.
The West African nation's economy is set to expand 4.5 percent in 2014, compared with 7.1 percent a year earlier, according to the International Monetary Fund. That would be the slowest pace in five years and below the sub-Saharan African average of 5.1 percent. Ghana is in talks with the IMF for an agreement that could lead to $800 million of aid as soon as January, Finance Minister Seth Terkper said on Oct. 20.
That helped halt a slide in the cedi, Africa's worst performer against the dollar this year. The currency gained 21 percent after retreating to a record low of 3.8876 per dollar on Aug. 21. It traded 0.1 percent stronger at 3.2215 by 12:56 p.m. in Accra.
Rating Cut
Companies are battling producer prices that climbed an annual 46.7 percent in September, according to the Ghana Statistical Service. Consumer inflation advanced at an annual rate of 16.5 percent last month.
Power and water shortages, the effect of inflation on consumer and business confidence and production problems at the Jubilee oil field, Ghana's lone crude-exporting site, "will likely continue to depress growth prospects," Standard & Poor's said on Oct. 24 as it cut the nation's creditworthiness. The rating of B- is six steps below investment grade and on par with Democratic Republic of Congo and Egypt, the agency's lowest-rated African nations.
Even as Amey-Obeng struggles to keep her cosmetics company afloat, the blackouts haven't benefited companies that import generators, such as Anointed Electrical Engineering Services Ltd., based in Accra.
No Boom
"We all expected that with the power cuts the generator business will experience a boom, but it wasn't to be," General Manager Albert Arthur said in an interview this month. The depreciating currency has made products, which he ships from the U.K., too expensive. "The sale of new gen sets are at an all-time low."
Ghana plans to add 770 megawatts of electricity to the national grid by the end of 2015, Energy Minister Emmanuel Armah-Kofi Buah said in an interview on Oct. 27. "We are attacking the situation head on and pursuing our target of 5,000 megawatts of installed capacity by 2016," he said. "A lot of investments have been made," Buah said. "Our current power crisis is temporary."
On Aug. 5, the U.S. government's Millennium Challenge Corp. announced a $498 million, five-year program to support the transformation of Ghana's power industry "and stimulate private investment," according to a statement on its website.
"That investment, together with other donor and private-sector participation, should provide a structural overhaul for the sector over the medium term," Philippe de Pontet, Africa director with New York-based Eurasia Group, said in an e-mailed response to questions on Oct. 27. "But the road to get there will be bumpy."
Gas Shortage
References to load shedding, as Ghana's utilities call rotating blackouts, have appeared in local media since at least 1997. According to the state-owned Volta River Authority, 36 percent of the nation's capacity of 2,847 megawatts comes from the Akosombo hydro dam, which was inaugurated in January 1966 by then-President Kwame Nkrumah.
Drought has forced Akosombo to shut turbines in recent years and has affected output at the $790 million hydropower plant at Bui in the northwest Brong Ahafo region, which began production in 2013. The West Africa Gas Pipeline Co., which started sending natural gas from Nigeria to Ghana in 2008, has faced supply shortages and line damage. Repairs to thermal plants boosted generation and Akosombo is producing more, though it's not yet enough to end the blackouts.
Electricity Co. of Ghana Ltd., which distributes power in six of the country's 10 regions including the cities of Accra, Kumasi and Takoradi, schedules the outages. A neighborhood that loses power on a Tuesday during the day will get another blackout from Wednesday at 6 p.m. and then 6 a.m. on Friday.
For Amey-Obeng, the cuts at work and at home are making for sleepless nights. "I am really tired now," she said. "I always hoped that things will get better but the situation is getting worse by the day. I really am contemplating giving up."
Before it's here, it's on the Bloomberg Terminal.
LEARN MORE