Cheap Oil Lifts All Airlines, but Spirit Gets to Fly Highest
By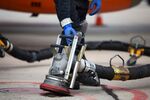 The crude oil bear market represents a strong financial tailwind for airlines, which will likely fatten their profit margins over the winter. When jet fuel is cheaper, of course, more money flows "straight to the bottom line," as American Airlines President Scott Kirby put it last week. Yet a decline in crude oil expense doesn't help every airline equally. A carrier's nonfuel spending plays an important role in how much profitability cheaper jet fuel will offer.
Nowhere is that financial shift more pronounced than at Spirit Airlines, which just reported a record pretax profit margin of 21.3 percent in the third quarter. Spirit executives cheered analysts by suggesting they can hit an operating profit margin of about 20 percent in 2015—the same year the Florida-based airline is planning a major growth spurt and hiring 250 new pilots.
Behind the profitability boom are Spirit's nonfuel costs, which are about the lowest in the industry.
Every airline pays roughly the same amount for jet fuel, which is tied to crude oil futures currently sitting at multiyear lows. Brent crude, the index most closely tied to jet fuel prices, is below $86. Barclays cut its 2015 forecast for Brent by $3 to $93 per barrel, the bank's second downward revision in less than a month.
When crude oil is expensive, as it has been for the last several years, a low-cost airline's nonfuel cost advantage—lower wages, greater use of its airplanes, cheap coffee in employee break rooms, stingier medical benefits—becomes less important to the total cost base. A giant like United or Delta narrows the cost advantage a small rival like Spirit or Southwest enjoys, while goosing higher revenues from its global network through higher fares and fuel surcharges. But when oil prices retreat, a nonfuel cost advantage becomes far more important for a low-cost carrier than for the giants.
"Legacy airlines are better equipped to win the revenue game, whereas low-cost carriers are better equipped to win the cost game," industry journal Airline Weekly noted last year in analyzing the advantages higher jet fuel prices afford large airlines.
Flying its Airbus jets on slower travel days, as Spirit has begun doing on Tuesday and Wednesday, will lower the airline's unit costs even further as it gains greater productivity from the assets. That means flights will be slightly less packed—which is already happening at Spirit—but it also pays off financially. Here's how Spirit Chief Executive Ben Baldanza explains the math of mixing low nonfuel costs with cheaper fuel:
Since we're a margin-driven airline, if we can drive higher margins with a little lower [revenue] and even greater lower [costs], that's a great thing for us, and that's a great thing for our model and that means even lower fares for customers and a good thing for investors. So that's the way we've always been thinking about 2015. I think early on there was some apprehension, not here at Spirit, but outside, about in a 30 percent growth year, why might that not pressure your revenues because you will have so much new flying? We were always internally saying yes, but our costs are going to be great because of all that, so margins might actually improve.
Investors love such news. Spirit shares gained more than 7 percent on Tuesday, part of a 56 percent surge this year.
Before it's here, it's on the Bloomberg Terminal.
LEARN MORE