WHO Said to Track 111 People in Mali After Ebola Death
Olivier Monnier and Francois Rihouay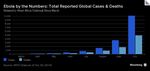 Health officials in Mali have identified 111 people who came into contact with the nation's first Ebola patient last week, according to an internal World Health Organization document.
Workers have been unable to find at least 40 of those people who may have been exposed to the toddler, the Geneva-based WHO said in the document, seen by Bloomberg News. The two-year-old girl contracted the disease in Guinea and died on Oct. 25 in Mali.
Mali's government is working with the Red Cross and Medecins Sans Frontieres to limit the spread of the disease, which has already killed about 5,000 people in Guinea, Liberia and Sierra Leone since March. Mali's weak health system will make it harder to track everyone down and isolate them, the Red Cross said last week. Medical charity MSF, known as Doctors Without Borders in English, said that four health and sanitation experts should be in Mali tomorrow.
Tarik Jasarevic, a spokesman for the WHO in Geneva, didn't immediately respond to an e-mail or voicemail message to his mobile phone left after business hours yesterday. Abdoulaye Cisse, a spokesman for the agency in Mali, declined to comment when reached on his mobile phone.
Doctor Shortage
The two-year-old who died of Ebola in Mali is thought to have contracted the disease from her mother or another relative in Guinea who fell ill. Her grandmother then took her to Mali's capital, Bamako, and to the rural town of Kayes, about 600 kilometers (373 miles) northwest, where she died.
Mali doesn't have enough trained health workers, the U.S. Agency for International Development said in a report last year. There's one physician per 8,646 people. Health staff are unevenly distributed across the country, with most qualified workers in Bamako and the regional capitals, according to the report.
Mali has a population of about 16.5 million and is Africa's third-largest gold producer.
Before it's here, it's on the Bloomberg Terminal.
LEARN MORE