Ebola Shots on Lake Geneva for $845 Test Vaccine Support
Jason Gale and Marthe Fourcade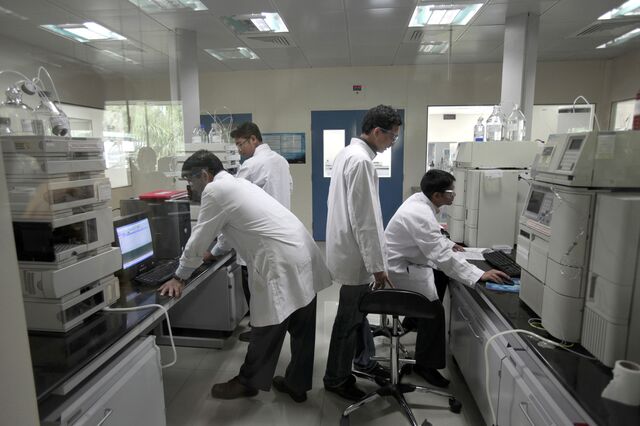 Lausanne, Switzerland, is known for its fine restaurants, terraced vineyards, graceful streets that spill down the mountainside to Lake Geneva -- and, starting Oct. 31, the willingness of at least some citizens to be injected with a piece of the Ebola virus.
The city will host the largest study for the leading experimental vaccine to fight Ebola, a key step in halting the outbreak. Though its sedate streets are far from the contagion in West Africa, the scientist leading the tests says he's managed to find a first batch of willing participants -- albeit mostly doctors and medical students.
Safe and effective vaccines are seen as vital tools to help curb a disease the World Health Organization says may strike as many as 10,000 people a week by December. The vaccine, made by GlaxoSmithKline Plc, will be tested in Lausanne on 120 healthy adults. So far, more than 50 people have volunteered, said Blaise Genton, the study's leader, who has worked on more than 20 vaccine trials.
"This one is very different from all the others, I can tell you, that's why I am quite optimistic," Genton, a professor at the University Hospital of Lausanne, said in an interview. "We need to go very fast so that we may have something more than what we have now in terms of preventive measures."
A shipment of 101 vials of the vaccine will arrive today or Thursday from the U.S., enabling inoculations to begin this week, Genton said. Glaxo's experimental shot is based on a live version of a genetically modified chimpanzee virus that contains an Ebola gene. A Glaxo representative declined to comment.
Locals Wary
While Genton says he's found plenty of colleagues and medical students willing to volunteer, recruiting participants from the broader community may be more difficult. People who are randomized to receive either the experimental shot or a placebo receive 800 Swiss francs ($845) as reimbursement for their time and travel expenses.
A walk along the lake, the train station and the corridors of the hospital conducting the experiment found that locals were wary at best.
"I really don't want to have an animal virus injected in my body," said Sebastien Charpie, a public accountant from Neuchatel, an hour and a half away. "The disease comes from another continent, maybe that's why I feel less concerned."
Also, Charpie said: "The remuneration is low for the risk you're taking."
Side Effects
At the Beau Rivage Palace, where manicured lawns slope toward the lake and a cappuccino costs 10 francs, Charpie and six other people interviewed said they wouldn't enroll for the study. Likewise, five hospital workers and two taxi drivers weren't willing to volunteer, citing suspicion about the motivations of the pharmaceutical industry as well as safety concerns. Even a pharmacist at Lausanne's central station, Hicham Tayebi, cited health concerns.
"You could offer me a thousand times that amount being paid and I'd still say no," said Kabongo Mlamba, a local taxi driver who was born in Kinshasa in the Democratic Republic of Congo, where Ebola emerged in 1976. "The side effects could be concerning," the father of six added.
Participants will be monitored for side effects and their blood will be screened for evidence of an immune response.
Tests this month at the U.S. National Institutes of Health, the University of Oxford and in Mali involving dozens of people have so far identified no serious side effects, Genton told reporters in Lausanne today. Minor symptoms have included soreness at the point of injection, a mild fever and headaches, he said.
Immune System
The reactions to the vaccine may reflect the immune system's response to the vaccine, said Marie-Paule Kieny, the WHO's assistant director-general for health systems and innovation, in an interview at the agency's Geneva headquarters.
The tests in Lausanne are the largest in the series of studies under way, according to the WHO, which is coordinating the research. The United Nations health agency is also coordinating a trial of a second experimental vaccine running concurrently at Geneva University Hospital.
"If shown to be safe and effective, either of the vaccines could be scaled up for production during the first quarter of next year, with millions of doses produced for wide distribution in high-risk countries," Kieny said in a statement today.
Chimpanzee Adenovirus
Initial results are due in mid-December, Kieny said in the interview. A similar approach using a chimpanzee adenovirus as a vector for an immunization against HIV and tuberculosis wasn't successful, she said.
"It's new territory," said Kieny, who has agreed to participate in the Geneva trial. "These are completely new vaccines."
Two doses of vaccine will be tested. The lowest dose found to provoke a sufficient immune response will be used, said Genton, who has spent 25 years working on vaccines, including malaria in Africa.
"We don't know the level of antibodies needed to protect, or even if these antibodies protect," he said.
Before it's here, it's on the Bloomberg Terminal.
LEARN MORE