NYC's Citi Bike Expanding to Queens as Walder Takes Over
Esme E. Deprez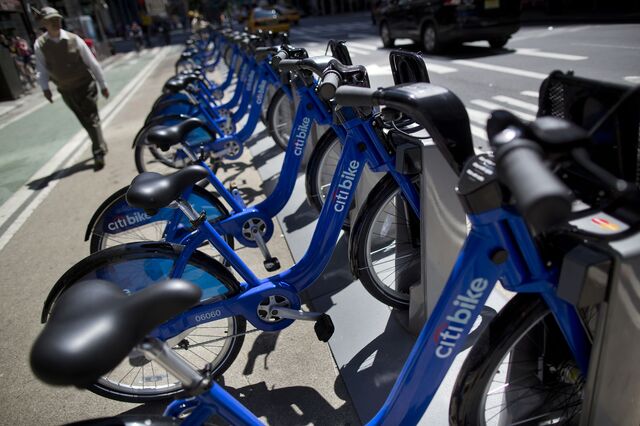 New York's bike-share program will double to 12,000 units by 2017 and expand into Queens and Upper Manhattan and deeper into Brooklyn with additional funding and credit from Citigroup Inc. and Goldman Sachs Group Inc. The cost of annual membership will also rise to $149 from $95.
Investors including Jeff Blau, chief executive officer of Related Cos., and Harvey Spevak, CEO of the Equinox fitness chain, formed a new company, Bikeshare Holdings LLC, to take over the troubled system's operator, Alta Bicycle Share Inc., Transportation Commissioner Polly Trottenberg said today at a news conference in Queens. She also announced the naming of Jay Walder, former chairman of the Metropolitan Transportation Authority, as chief executive of Alta, which will move its headquarters to New York from Portland, Oregon.
Citi Bike made its debut in May 2013 as the newest public-transit option in the biggest U.S. city, growing to 6,000 Citigroup-sponsored bicycles available from 330 solar-powered docking depots in Manhattan south of 59th Street and in sections of Brooklyn. It was plagued by problems even before it began, with critics saying its docking stations deprived neighborhoods of parking and marred the streetscape. Since then, it's lost money amid complaints about unreliability, inaccessibility and dysfuctionality.
More Potential
"Citi Bike has the potential to be so much more, and today we are committing to make that potential a reality," Walder told reporters. "We are bringing the energy, we are bringing the focus and we are bringing the resources that are needed to make Citi Bike work."
The first 1,000 bikes will be available by the end of 2015. Every bike and docking system will be revamped, and the software and technology underpinning the system will be upgraded, Walder said. Officials said they hope the system would eventually expand to all five boroughs.
Under the new arrangement, the program still won't use taxpayer funding. Citigroup, which initially invested $41 million to brand the bikes and docking stations with its trademark blue, is kicking in as much as $70.5 million more, while Goldman Sachs's Urban Investment Group is boosting its credit line by $15 million. The Partnership Fund for New York City, founded by financier Henry Kravis, is giving $5 million.
Citi Bike has more than 90,000 annual members, according to Bikeshare Holdings.
Stepping Down
In 2011, Walder left the MTA, the biggest U.S. transit agency, to lead MTR Corp., the operator of Hong Kong's subway. The MTA operates New York's buses, subways and commuter rail lines.
He stepped down from that post in August, one year before his contact expired, after an independent committee said he failed to exercise "critical judgment" in monitoring construction progress on a high-speed link connecting Hong Kong to China.
Alta is involved with bike-share programs in Seattle, Toronto, Columbus, California's Bay Area, Chicago, Boston, Washington, Melbourne and Chattanooga, Tennessee. Related is the developer of the Time Warner Center at Columbus Circle and a partner in the $20 billion Hudson Yards project, a 26-acre (11-hectare) district of offices, apartments, shops and parks on Manhattan's far west side. It also owns Equinox.
(An earlier version of this story was corrected to show the investors included the chief executive officers of Related and Equinox.)
Before it's here, it's on the Bloomberg Terminal.
LEARN MORE