Knicks and Rockettes Broken Up Means Big Payoff: Real M&A
Brooke Sutherland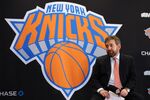 Madison Square Garden Co. broken apart is worth a whole lot more -- perhaps another $2 billion -- than it ever was together.
The $5.7 billion owner of the New York Knicks and New York Rangers, which also operates real estate such as Radio City Music Hall, surged 11 percent to an all-time high yesterday on the prospect of a breakup. The company, which may split its sports teams and cable networks from the entertainment business and properties, could be valued at about $95 a share, analysts estimate. That's well above its prior high in August and still about 30 percent more than the price yesterday.
Once MSG is broken up, both pieces could become takeover targets and reap even more for investors in a sale. Private-equity firms would be interested in the company's venues, which include its namesake arena, said Maxim Group LLC. MSG also has a chance to take advantage of the record valuations that sports teams are getting right now and sell its teams and media assets. The Knicks basketball team alone could be valued at as much as $4 billion, twice what Steve Ballmer paid for the Los Angeles Clippers this year, according to Albert Fried & Co.
"This was looking like a value trap," John Tinker, a New York-based analyst at Maxim, said in a phone interview. "Now they're actually moving very constructively and more imaginatively than we had anticipated. You have a lot of interesting opportunities here."
MSG said this week that it's considering a spinoff that would create two separate publicly traded entities. The company, which produces the Rockettes show at Radio City, also said it would buy back shares and nominate Nelson Peltz of Trian Fund Management LP and Scott Sperling of Thomas H. Lee Partners LP to the board. They would join Richard D. Parsons, former Time Warner Inc. chairman, who was re-appointed as director.
Entertainment's Drag
MSG's valuation had been dragged down by its entertainment assets, which require more capital and are harder to value because they lack comparable peers, Amy Yong, a New York-based analyst at Macquarie Group Ltd., said in a phone interview. She estimates the company is worth $90 to $95 a share, based on the sum of its parts.
"You had an investor base that was very interested in the sports assets but less interested in what has been a higher upfront investment entertainment business," Michael Morris of Guggenheim Securities LLC, said in a phone interview. "The entertainment business can certainly be lumpier and therefore has a different risk profile."
Dolan Discount
Breaking up and putting Peltz and Sperling on the board will remove another kind of discount -- the Dolan discount. The Dolan family owns a controlling stake in MSG, and James Dolan is the chairman of the company and the owner of the Knicks and the Rangers.
"Jim Dolan, rightly and wrongly, has been criticized on the management of his companies," Richard Tullo, a New York-based analyst at Albert Fried, said in a phone interview. "He's not a good corporate governance guy. These are three guys that should be pretty good for governance. They're going to do a lot of heavy lifting."
Some of that lifting may eventually lead to a sale of the two halves of MSG. Dolan may be more willing to part with the real-estate assets, which aren't as "emotionally valuable" as the sports teams, said Tinker of Maxim.
A newly created property and entertainment company could qualify as a real estate investment trust, according to a person familiar with the matter. Private-equity firms and Live Nation Entertainment Inc. are potential buyers for those assets, said Yong of Macquarie.
Maple Leaf Sports & Entertainment Chief Executive Officer Tim Leiweke said he's in talks with former Live Nation Chairman Irving Azoff about forming a joint venture that may include assets that belong to MSG.
Clippers Inspiration
One catalyst for MSG considering a breakup was the high sale price the Clippers commanded, people familiar with the matter said. Former Microsoft Corp. CEO Ballmer bought the team at almost four times the previous record paid for a National Basketball Association team.
The Knicks should command even more than the Clippers in a sale because the team has a history of strong ticket sales and brings in more revenue, according to Tullo of Albert Fried. He said a price of $2 billion to $4 billion is in the "realm of possibilities."
"I wouldn't be surprised if this was initiated by some inbound interest," he said of MSG's consideration of a breakup. "They saw it could go somewhere, and they decided to take this step. When you think the Knicks are worth $1 billion there's no sense of urgency, but when you think that they're worth $3 billion or $4 billion in the immediate term, then maybe there's a sense of urgency."
Meet the Mets
The Dolans would probably prefer to keep all of the media and sports assets together, should the family ever consider selling that business, Tullo said. Still, a high enough offer for the Knicks might change their stance, he added.
MSG could take a completely different route and add to its sports team holdings instead -- possibly by buying the New York Mets baseball team. The stock of a sports and networks entity is a more attractive currency for any potential team seller, said Morris of Guggenheim.
The Mets, owned by Fred Wilpon and Saul Katz's Sterling Equities, "would make sense because you'd really be strong in New York," Tinker of Maxim said. "Plus you'd have a fully seasonal approach."
One of the best parts about a breakup is "you have a lot of options," he said.
Before it's here, it's on the Bloomberg Terminal.
LEARN MORE