Inside Frank Gehry's Spectacular Louis Vuitton Foundation
By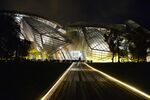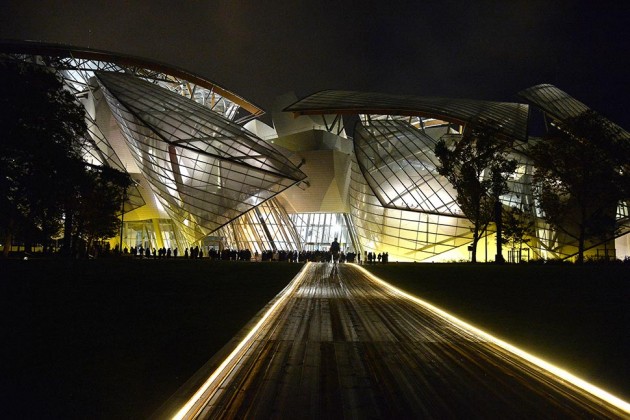 The much-anticipated Louis Vuitton Foundation (Fondation Louis-Vuitton), in Paris, is now open to the public. The massive museum for contemporary art, designed by Frank Gehry, is a spectacle: The gallery spaces are contained in cement blocks covered by massive, curved pieces of glass. Set in a public park in the Bois de Boulogne in the western part of the city, the structure seems to alight on the earth like a spaceship from the future.
Bernard Arnault, the 65-year-old chairman and chief executive of LVMH Moët Hennessy Louis Vuitton, commissioned the museum, and both he and the 85-year-old Gehry hope this building will be an indisputably positive contribution to a complicated legacy.
It's the first privately funded major cultural institution in France. Museums, opera houses, and the like are generally considered the domain of government bureaucracy in France. But LVMH managed to sidestep the usual objections by building the structure in a public park. In an agreement with the city for the plot, ownership of the museum will revert to Paris in 55 years. Even though the ostentatious design rankled a NIMBY group, the museum is, in essence, a gift to the city worth a reported $134 million.
It's part of an image overhaul. In France, Arnault is known as a ruthless businessman who descends upon and snatches up family-run luxury businesses at the first sign of weakness. His acumen has turned LVMH into the world's largest luxury conglomerate and himself into the 20th richest man, with a net worth of $28.7 billion, according to Bloomberg Billionaires Index. The museum is one part of a PR campaign to show Arnault's softer side and his commitment to culture and heritage. Jean-Paul Claverie, who's in charge of LVMH's philanthropic endeavors, told the New York Times that the foundation is aimed at yielding "not economic returns but emotional ones."


It's a milestone in digital fabrication. Gehry doesn't have a spotless reputation, either. Critical opinion is often split over his creations, and the cantankerous octogenarian isn't known for his diplomacy. Most recently, at a press conference in Spain, he dismissed "98 percent" of today's architecture as "pure shit." Regardless of where you fall on the Gehry appreciation spectrum, you can at least give him credit for defining a distinctive aesthetic rooted in digital computing. The Louis Vuitton Foundation takes his signature approach to the next level. According to his office, more than 400 people contributed design plans, engineering rules, and construction constraints to a shared Web-hosted 3D digital model. The 3,600 glass panels and 19,000 concrete panels that form the façade were simulated and then molded by industrial robots working off that common model.


It's a mashup of recycled visual references. Gehry says the glass structure echoes 19th-century glass garden buildings. But he also revisits his obsession with maritime imagery. He calls the rectangular blocks containing the gallery spaces "icebergs." His 2007 building for IAC/InterActiveCorp's headquarters also resembles an iceberg on Manhattan's far West Side. The 12 panels of glass that cover the icebergs are "sails"—a trope Gehry also used in his 2003 Walt Disney Concert Hall in Los Angeles. "If you look at the front of Disney Hall," the designer said, "it's wing-on-wing, it's the two sails, and you're at the helm."