New Food Ratings Can Tell You Which Junk Food Is the Least Bad
By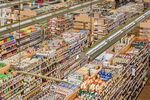 The Environmental Working Group, a Washington-based advocacy outfit, has a reputation for using data to shake up the status quo. Its database of farm subsidies revealed which farmers were getting rich off government payments, and even a few celebrities receiving government payouts. Its scorecards on cosmetics and cleaning products showed which ones contained the most toxic ingredients.
Now, EWG has focused on the grocery aisles. Today it released a database that scores more than 80,000 grocery items, based on nutrition, safety of ingredients, and the amount of processing. A free mobile app for smartphones is coming soon. Called "Food Scores: Rate Your Plate," the database was developed over three years with the hope of helping shoppers make "healthier, greener and cleaner food choices."
The products are rated on a scale of 1 to 10, with 1 being the best. Nutrition makes up about 70 percent of the score; concerns about ingredients, about 20 percent; and the amount of processing, 10 percent. Many of the scores aren't so surprising. Kale scores near the top, as do many other fruits and vegetables. Candy and desserts rate poorly, as do many meat products, particularly beef, says Renee Sharp, EWG's director of research.
But one of the benefits is that the database shows wide variation within individual categories, like tortilla chips:


Food Scores joins a growing field of apps and databases that rate food, usually for its nutritional content. The app Fooducate, for instance, provides letter grades for food products, using an algorithm that weighs the nutrition facts panel, health concerns about ingredients, and the level of processing (less processing is good, more is bad). Hannaford Brothers, a supermarket chain based in Maine, unveiled a star system in 2006 to rate the nutritional value of food. The NuVal Nutritional Scoring System, available at Hy-Vee and about two dozen other grocery outlets, grades the nutrition of food on a scale of 1 to 100. Whole Foods Market recently released a rating system on the environmental impact of produce and flowers.
Sharp says that what sets her organization's database apart is that besides nutrition, it also considers concerns about ingredients and contaminants (like mercury in fish) and the degree and type of processing. In addition, she said EWG will be transparent in how it evaluates different foods, which is not clear on some other databases.
In EWG's system, only 18 percent warrant a green (best) score, between 1 and 3.5. Most foods are in the middle, scoring from 4 to 7, which is coded yellow to orange. The worst foods, which make up 25 percent of the total and score from 8 to 10, are colored red. Meat, stuffing, sugary cereals, and granola bars all take a beating in EWG's system, because of ingredients of concern or the amount of sugar. But even then, there are exceptions. For instance, a Sage Valley granola bar gets a 2—it's high in protein and fiber—but ShopRite's version gets a 10 because it has more than 50 ingredients and is 13 percent sugar by weight.
Before it's here, it's on the Bloomberg Terminal.
LEARN MORE