U.S. Banks See Worst Outflow of Money in ETF Since 2009
Madeline McMahon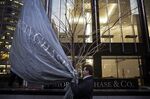 The Financial Select Sector SPDR, an exchange-traded fund targeting banks and investment firms, had the biggest withdrawal last week since 2009 amid concern that low interest rates and market swings will hurt profits.
Investors pulled $913.4 million from the $17.5 billion ETF, whose top holdings include Berkshire Hathaway Inc., Wells Fargo & Co. and JPMorgan Chase & Co., a shift that turned its flow of funds negative for the year. About 143 million shares of the ETF have been borrowed and sold to speculate on declines, the most since June 2012, according to exchange data compiled by Bloomberg.
Banks have waited for years for higher rates and more robust trading to boost revenue from lending and market-making. Weaker-than-expected global growth could prompt the U.S. central bank to slow the pace of eventual interest-rate increases, Federal Reserve Vice Chairman Stanley Fischer said Oct. 11. The severity of market swings this month also boosts the risk that banks will incur losses while facilitating client bets, and it may slow mergers and acquisitions.
"Investors should have less exposure to financials than the broader market because we don't think the prospects are that strong," said Todd Rosenbluth, director of mutual-fund and ETF research at S&P Capital IQ in New York, referring to interest rates.
If the Fed keeps rates low, "the upside in these financials is taken away," said Charles Peabody, an analyst at Portales Partners LLC in New York.
'Bad Volatility'
The SPDR fund tracking financials is the largest and most-traded among the 40 U.S. listed ETFs focusing on that industry. Its shares outstanding decreased 5 percent, the biggest weekly decline in more than year.
Citigroup Inc. and Morgan Stanley were among banks that beat analysts' estimates when reporting earnings this month as firms cited a pickup in volume and price moves in September.
Speculation that Ebola is spreading, concern about the health of the global economy and selling by hedge funds later drove the Chicago Board Options Exchange Volatility Index above 26 on Oct. 15, a two-year high. The Dow Jones Industrial Average moved more than 1 percentage point on 10 days this month through last week.
While increased trading initially helped earnings, "we've moved to bad volatility, and that's going to be tougher," Peabody said. A jump in mergers and acquisitions, which generates fees for banks providing financial advice, "has probably peaked," he said.
The Standard & Poor's 500 Financials Index of 85 firms rose 3.5 percent last week, lagging behind the 4.1 percent gain in the broader S&P 500. The financials index added 0.1 percent yesterday.
Before it's here, it's on the Bloomberg Terminal.
LEARN MORE