Royal Caribbean to Cruisers: Stop Expecting Last-Minute Discounts
By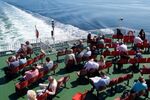 The cruise industry is often awash in last-minute deals designed to fill ships. Royal Caribbean Cruises is hoping to end these bargains, which anger travelers who plan vacations in advance only to see a better deal pop up as their sailing date nears. "Last-minute discounting is a significant source of discontent to many of our early-booking guests," Royal Caribbean Chief Executive Officer Richard Fain said last week during an earnings call with analysts.
Fain said the "more consistent approach on pricing" has been enabled by an easing of cabin capacity in 2015, when cruise lines are expected to move some ships from the Caribbean to Asia. The company also wishes to shore up the profitability of its cruises. Depending on how aggressively the line pushes its pricing, Royal Caribbean may find itself with fewer passengers. Even so, Fain said, "we think it will raise the satisfaction level of our guests and strengthen the perception of our brand superiority."
The cruise industry has been struggling to balance capacity with vacationer demand and to combat the sort of heavy discounting that has become common in recent years. A series of highly public, financially damaging events, starting with the 2012 sinking of the Costa Concordia, decimated bookings and caused the lines—led by Costa parent Carnival—to roll out discounts. The problem was exacerbated in 2014 because so many lines moved so many ships into the Caribbean, which saw a 15 percent surge in capacity.
Those bargains, and the industry's goal to fill every possible cabin, have gradually trained consumers to expect most large lines to unleash enticements as sail dates approach, says Bob Levinstein, chief executive of CruiseCompete.com, a site that lets travel agents bid for potential customers' cruise itineraries. Royal Caribbean, he says "wants to start teaching people that that's not how it's going to be."
For now, though, that's how it is. In late October, a search of online travel agencies found seven-night Caribbean cruises in November priced under $300 from Carnival and Norwegian Cruise Line Holdings. Royal Caribbean, Princess, and Celebrity cruises were being offered at under $400 for a week—strong evidence that, at least during low season, bargains abound with lines looking to fill ships and counter weak fares with on-board sales.
Will Royal Caribbean be able to minimize the last-minute bargains—what Fain calls "a source of quite a bit of upset" for early birds? For one thing, industry capacity will need to be stable in any particular region. Even more important to the effort will be a cruise industry without any major new PR blows dominating cable television, the kind of events Carnival executives term "voyage disruptions." "In theory, it's realistic, just as long as there are no surprises by RCL and/or competitors to add new ships/sailings in the Caribbean in 2015," wrote Patrick Scholes, an analyst with SunTrust Robinson Humphrey, in an e-mail.
No one in the industry expects last-minute deals to disappear. "On some sailings, they'll be fine doing that," Levinstein says, "and on others, they'll get creamed."