Chiquita Agrees to Cutrale-Safra Buyout for $681 Million
Simon Casey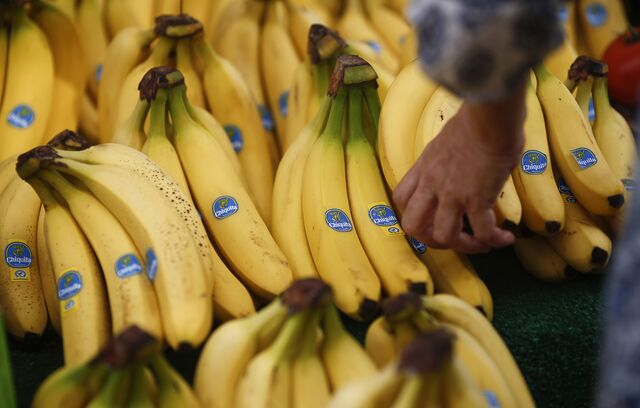 Chiquita Brands International Inc. agreed to be bought by Brazil's Cutrale Group and Safra Group for about $681 million, three days after shareholders rejected its plan to buy another banana producer in a tax inversion.
The bidders said today they will pay $14.50 for each share of Charlotte, North Carolina-based Chiquita, which traces its roots to an 1870 shipment of Jamaican bananas to New Jersey. That's 44 percent more that Chiquita's closing share price on Aug. 8, the last trading day before the initial proposal from Cutrale and Safra.
Chiquita had rejected Cutrale-Safra's overtures three times, including last week when it said the $14.50-a-share price wasn't superior to its plans to buy Dublin-based banana producer Fyffes Plc. The company, which also sells salad under the Fresh Express brand, changed its mind and began talks with the two Brazilian companies after investors voted Oct. 24 to reject the Fyffes deal.
Buying Fyffes would have created the world's biggest banana company and would also have reduced Chiquita's tax bill by relocating its headquarters to Ireland. The corporate tax rate there is 12.5 percent. The U.S. Treasury Department last month announced steps that will make it harder for U.S. companies to move their addresses outside the country to reduce taxes.
'Brand Loyalty'
Cutrale, a closely held fruit juice company, and banks controlled by Brazil's second-richest man, Joseph Safra, initially made an unsolicited offer of $13 a share to buy Chiquita in August. The bidders cited benefits for Chiquita from their farming, processing, logistics and marketing knowledge.
"It has impressive brand loyalty and recognition through its Chiquita and Fresh Express brands, providing the company with a strong competitive edge in the growing worldwide demand for high-quality fresh fruits and salads," the acquirers said in a statement.
Chiquita rose 1.4 percent to $14.36 at the close in New York. The shares have gained 23 percent this year.
The purchase of Chiquita by Cutrale and Safra is expected to close by year-end or early 2015, the companies said. Chiquita will pay its acquirers a $25 million fee if the deal is terminated under certain circumstances, according to a filing.
Including debt, the value of today's deal is $1.27 billion, according to data compiled by Bloomberg. It's the fifth-largest pending or completed takeover of a U.S. food company to be announced this year, the data show.
Deal Advisers
Cutrale and Safra are paying about 15.4 times Chiquita's earnings before interest, taxes, depreciation and amortization, according to Kenneth Shea, a Bloomberg Intelligence analyst. That represents a premium of about 14 percent over a peer group of North American packaged-food companies, he said in a series of presentation slides.
The acquirers' financial adviser was Credit Suisse Group AG and their legal adviser was Cravath Swaine & Moore LLP, according to Bloomberg data. Chiquita's financial advisers were Goldman Sachs Group Inc. and Wells Fargo & Co. and its legal advisers were McCann Fitzgerald, Skadden Arps Slate Meagher & Flom LLP and Taft Stettinius & Hollister LLP.
Before it's here, it's on the Bloomberg Terminal.
LEARN MORE