Ebola Quarantines in N.Y., N.J. Face White House Scrutiny
John Lauerman and Drew Armstrong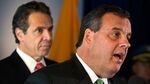 President Barack Obama's administration is concerned that required quarantines of health workers returning from West Africa to New York and New Jersey may have unintended consequences and is preparing new directives, a senior administration official said.
The administration has told Governors Andrew Cuomo of New York and Chris Christie of New Jersey that their quarantine orders aren't consistent with knowledge of how Ebola spreads, and may discourage volunteers from going to Africa to help treat victims, according to the official, who asked not to be identified because the discussions are private.
The states issued the 21-day quarantine orders after Craig Spencer, a volunteer with Doctors Without Borders who cared for patients in Guinea, was hospitalized with Ebola after taking the New York subway, eating at a meatball restaurant and visiting a bowling alley following his return home. Spencer was in serious condition today at New York's Bellevue Hospital Center.
So far, the only people who have been infected with the virus while in the U.S. are health care workers who treated a man who died of Ebola at a Dallas hospital.
"If a person who is without symptoms -- they're not sick - - has a bowling ball, that is essentially no risk," said Anthony Fauci, director of the U.S. National Institute of Allergy and Infectious Diseases in Bethesda, Maryland, in an interview on CBS's Face the Nation show today.
Before it's here, it's on the Bloomberg Terminal.
LEARN MORE