Billionaire Banned From Markets Increases DLF Risk: India Credit
Anoop Agrawal and Anto Antony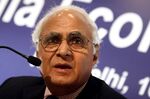 The risk of India's biggest property developer reneging on its debt in the year has surged to a 2009 high after it was barred from capital markets by the regulator.
The median probability of nonpayment by DLF Ltd. jumped as high as 0.33 percent this month from 0.21 percent at the end of September, according to the Bloomberg default risk model, which is based on factors including share performance and debt metrics. The company and its billionaire Chairman Kushal Pal Singh were barred from raising funds by the Securities and Exchange Board of India, or SEBI, on Oct. 13 for failing to disclose information during its 2007 initial public offering.
The ban threatens to hinder the builder's efforts to reduce its debt burden by replacing bank loans with cheaper funds raised from securities markets. DLF's credit was placed on rating watch "with negative implications" by Crisil Ltd., the local unit of Standard & Poor's, after the regulator's move.
"If I held DLF's debt instruments, I would get out of it as the risk is going up," P. Phani Sekhar, a Mumbai-based fund manager at Angel Broking Ltd., said in a phone interview on Oct. 23. "There's only so much a company can do in a situation like this. Lenders will demand a much higher yield from now on. The only way they can cut debt is by selling non-core or even core assets."
Sanjey Roy, a New Delhi-based spokesman for DLF, declined to comment as the matter is subjudice.
Market Ban
The SEBI, in an order posted on its website on Oct. 13, barred the DLF officials from "buying, selling or otherwise dealing in securities, directly or indirectly, in any manner" for three years as the company suppressed information when it sold shares for the first time in 2007. The company has said it will defend itself against the SEBI's findings that also placed restrictions on Vice Chairman Rajiv Singh and four others.
The ban is the "third negative legal development" for the developer in the past two months, according to Aashiesh Agarwaal, a Mumbai-based analyst at Edelweiss Securities Ltd. Provincial courts had earlier canceled an allotment of 350 acres of land in northern India to the company. The Supreme Court had ordered DLF to deposit 6.3 billion rupees ($103 million), a penalty levied by the Competition Commission of India's, while DLF's appeal is under way.
Funding Uncertainty
Restrictions imposed by the SEBI would affect DLF's plans to raise capital from sales of commercial mortgage-backed securities, or CMBS, and real-estate investment trusts, according to Crisil. The funding constraints would boost DLF's financial risk, according to Union Investment Privatfonds GmbH.
"The risk would tend to increase because of uncertainty on how impending debt servicing will be done and what recourse will be taken to meet funding needs without the overall performance getting affected," Sergey Dergachev, a senior portfolio manager in Frankfurt at Union Investment, said in an Oct. 23 telephone interview. "That's going to hurt investor sentiment."
The builder's borrowings minus cash is almost 50 percent of the combined debt of India's six biggest developers, data compiled by Bloomberg show. Its non-bank obligations were about 45 percent of its net liabilities of 198 billion rupees as of March, the refinancing of which may come under pressure, according to Edelweiss Securities.
DLF is rated A, the sixth-highest investment grade, at Crisil and at ICRA Ltd., a unit of Moody's Investors Service.
"The rating continues to reflect DLF's established market position in the domestic real-estate sector, its diversified, well-located and low-cost land bank and its healthy lease income portfolio," ICRA said in an Oct. 14 statement.
Asset Sales
DLF may have to "resort to large asset sales to reduce debt," Abhishek Bhandari, Mumbai-based analyst at Macquarie Capital Securities India Ltd., wrote in an Oct. 14 note.
The real-estate company sold its Aman Resorts in February at an enterprise value of $358 million. It also exited some of its other businesses, including wind farms and insurance, to pare its liabilities.
The ability of Indian builders to service obligations, as measured by debt as a percentage of earnings before interest, taxes, depreciation and amortization, declined this year to the lowest since at least 2008, Sreenivasa Prasanna, senior director for corporate ratings at the local unit of Fitch Ratings, estimated in April.
Borrowing Costs
Developers are struggling to meet repayments as the central bank holds the highest interest rates among Asia's major economies even as India's gross domestic product grows at a pace that's near a decade low. Reserve Bank of India Governor Raghuram Rajan has held the repurchase rate at 8 percent after raising it by 75 basis points, or 0.75 percentage point, from September 2013 through January to temper inflation.
The average yield on five-year AAA rupee corporate bonds is 9.05 percent, compared with 4.81 percent in China, according to data compiled by Bloomberg. Ten-year government debt pay 8.32 percent in India, compared with 3.71 percent in China and 2.72 percent in South Korea. The rupee was little changed today at 61.305 per dollar.
DLF raised 91.9 billion rupees from its 2007 share offering. The company failed to disclose financial information and pending litigations about some of its units, according to the SEBI order. Chairman Singh controls about 75 percent of DLF and has a net worth of $4.1 billion, according to the Bloomberg Billionaires Index.
"This ban raises red flags regarding corporate governance at the company," said Anubhav Gupta, a real-estate analyst in Mumbai at Kim Eng Securities Pvt. "Investors have all the reasons to be concerned about the governance practices there. The company is left with no choice but to sell assets to tide over the liquidity crunch in the offing."
Before it's here, it's on the Bloomberg Terminal.
LEARN MORE